HOBBS HOPING TO MAKE ANOTHER RUN
The Hobbs girls basketball team lifted the blue trophy back in March of 2020.  The Eagles hope to repeat the feat this spring.
"We're a way different team from last year," said Hobbs head coach Joe Carpenter. "We've got really good young talent, but they still need to develop."  Carpenter, in his fifth season with Hobbs, has a roster that includes eight players who are sophomores or younger: four 8th graders, three freshman, and one sophomore.  But that sophomore is pretty special.  Wisdom Anthony returns for her sophomore season.  As a freshman, she averaged over 16 points and 6 rebounds a game.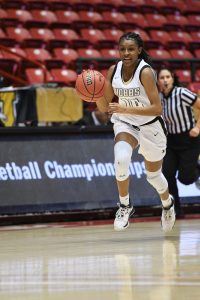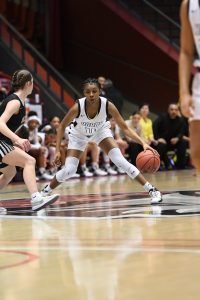 "I coached (University of New Mexico guard) Jaedyn De La Cerda at Roswell High School," said Carpenter. "Jaedyn had long range, Wisdom is more athletic and has three years left.  Wisdom Anthony could be the best player I've ever coached."
There are three other returners joining Wisdom Anthony on this year's Hobbs roster.  6'0" post player Elise Turrubiates is back for her senior season, along with 5'7" senior guard Jamiah Clay.  Freshman post player Aniya Joseph also saw action during last season's championship run.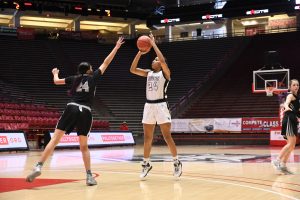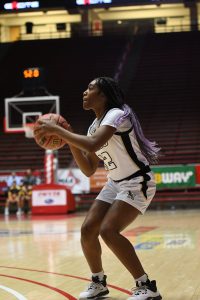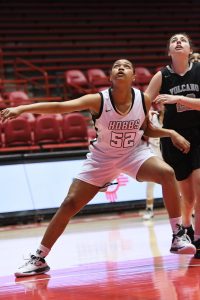 The Eagles made it to the state final in each of the last three years, winning a pair of championships.  They lost a total of six games during that span.  The last back-to-back girls state champion in the state's largest classification was La Cueva from 2008-2009.  When asked if it's tougher to win a title or defend it, Carpenter joked "I don't know, I've never successfully done that."
"After 2018 when we won it all, it was a different feeling.  We had injuries and things not go our way, but we had a core of the team back.  We just ran into a buzz saw in West Mesa (who beat Hobbs in the final in 2019).  I think we have the bullseye on our back this year and we will get everyone's best game."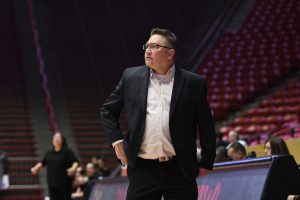 Hobbs beat Volcano Vista in the 2020 final, 58-43, and both teams are expected to be in the postseason mix again this year.  Carpenter says the one thing that stands out about last year's run was the empty Pit arena at the University of New Mexico.  "No fans because of COVID, that's what I remember the most," he said.  "Looking back on it now, we were blessed and so thankful to get to finish because spring sports didn't get to play at all. It would have been horrible if we weren't able to finish. I'm just thankful we got to play and finish the season."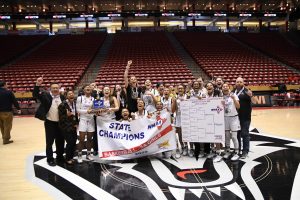 This season is shorter and, possibly, even more challenging.  "We need a bunch of games, 26 to be honest, to get this team to where we want to get it to," Carpenter said. "I wish I had a summer with them, but I'm sure everyone feels the same way."
Carpenter, like all head coaches right now, has to navigate through the COVID pandemic.  "We have seating charts for the bus, we sanitize the balls, follow the guidelines and keep them constantly aware of COVID.  You don't know who is going to be available and healthy come state tournament time, but I like our chances."
The seeding and selection for the 2021 Basketball State Championships will be announced Saturday May 1.