AVOID FAKE LIVE STREAMS FOR HIGH SCHOOL EVENTS
The New Mexico Activities Association would like to alert the public of a possible internet scam surrounding live streams of upcoming high school events.
Facebook users have seen posts of live stream events that are hosted by Streamhd (or other similar groups).  They look similar to the images listed below.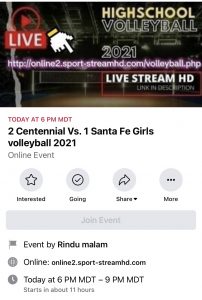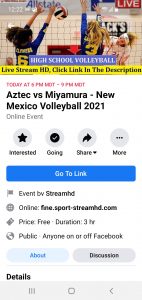 The post provides a link to watch a scheduled live stream.  Once you click on the link, it sends the user to a webpage that claims it is associated with High School Sports live coverage and asks you to create an account to get unlimited access.
THIS IS FAKE.  DO NOT CLICK AND DO NOT CREATE AN ACCOUNT.  THIS IS A PHISHING SCAM ATTEMPTING TO GET YOUR PERSONAL INFORMATION.
These scams are increasing on social media due to many schools offering live streams since the start of the COVID-19 pandemic.  Avoid these fake "Facebook Events".  It is a nationwide scam.
They want the user to enter an email and password, then take that information and do not deliver any stream, and now have access to any account that you use with the same name and password you provided.
The NFHS Network is a partner of the New Mexico Activities Association.  They are the official streaming service for all NMAA State Championship Events.  During the regular season, many schools also use the NFHS Network, but some do partner with other media entities to stream their various events.  Please check with your school administration to determine the correct streaming group.
"Unfortunately, we have seen an increased number of posts on Facebook involving these fake live stream events," said NMAA Executive Director Sally Marquez. "These scammers are targeting schools all over the state.  We want our fans to be sure they are accessing any live stream through the correct organization, which is the NFHS Network for state championship events or a school's local vendor for regular seasons contests."
YOU CAN SIGN UP HERE- https://www.nfhsnetwork.com/
The NFHS Network has been made aware of this internet scam issue and they are doing their best to prevent any further postings on social media.
Avoid companies you don't know or have never heard of and be suspicious of solicitations from third parties. Please know that NMAA athletic events are only available to be live streamed through the NFHS network. If you see, are tagged or invited to an event that you think is fake, please do not click on it or respond to it. If you take any action at all, report the event or page that is "hosting" it to Facebook, as this violates the company's Terms of Service.