MORE SIGNINGS & COMMITMENTS OF HIGH SCHOOL STUDENT ATHLETES IN NEW MEXICO
Here is a look at some of the recent signings and college commitments from high school student athletes in New Mexico.
Cara Daugherty of Aztec High School recently signed her National Letter of Intent to continue her academic and athletic career at Fort Lewis College where she will be competing in softball.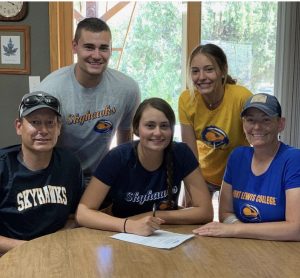 Kirtland Central's Arianna Lee signed her National Letter of Intent to play both volleyball and basketball at Oak Hills Christian College in Minnesota.
Gabrianna White-David of Kirtland Central signed to play volleyball with Lamar Community College in Colorado.
OTHER COMMITMENTS:
Ja'Shon Lowry from La Cueva recently announced his commitment to play football at the University of New Mexico.  Lowery is a 6'5" 230-pound senior-to-be who play defensive end, linebacker and tight end for the Bears last season.
Cleveland High School receiver Tre Watson announced on Twitter his commitment to play football at Fresno State.  Watson chose the Bulldogs over Air Force, Liberty, New Mexico and Texas State.  "I chose Fresno State because of the relationships that I built with the coaches and how they built a relationship with my parents," Watson said.  Fresno State will plan to use him as a hybrid tight end.