Oñate High School Drummer Left A Lasting Mark On Others
Isaac Brealey-Rood was a 16-year old student at Oñate High School.  People all over the nation got to know his name when a video of him appearing in his high school drumline went viral last year.  That young man with special needs unfortunately died this month as a result of a neurological episode.
Isaac was a member of the Oñate Royal Knight Regiment marching band with his brother, Aidan.  Isaac's intellectual disabilities prevented him from participating in many interscholastic activities, but he found a home with band.  The two brothers surprised their mom last September when they both appeared in the drum line at a performance during a football game.  Isaac was banging on a drum pad that was muted, but the sound of his impact resonated with thousands of people nationwide as the video became an internet sensation with more three million views on Facebook.
"We are saddened to hear about the passing of Isaac," said NMAA Executive Director Sally Marquez.  "He was an individual who helped teach others the importance of being inclusive. Isaac was an example to students that there isn't anything you can't do.  He will be greatly missed."
"Isaac ALWAYS had a way of making you smile," said Oñate director of percussion Valentino Leyba. "He would enter the room and no matter what mood you were in, he'd always make you laugh when he came up and called you 'chubby'. That was his name for everyone. Every member of the Oñate band welcomed Isaac with open arms. The impact he had on our program and school was immense."
"He touched the lives of us all and will be dearly missed," Oñate High School posted on social media.  The Las Cruces Public Schools also posted their condolences on social media by writing, "The LCPS, Board of Education and Oñate High School family want to express our sincere condolences to the family of Isaac Rood. We were so fortunate to know him as a dynamic presence in the Royal Knight Regiment Band."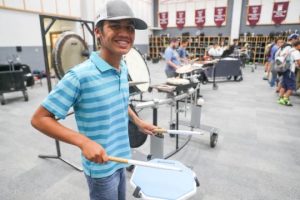 *photo courtesy LCPS/Twitter