NEW MEXICO STUDENT TAKES TOP HONOR AT NATIONAL SPEECH & DEBATE TOURNAMENT
Every summer, thousands of middle and high school students debate current events and voice their views on a variety of topics at a national competition.  This year's National Speech & Debate Tournament took place online because of COVID-19 restrictions.  New Mexico high school students from Albuquerque Academy, Cottonwood Classical, East Mountain, Eldorado, La Cueva, Los Alamos, Mayfield, Sandia, Santa Fe Prep, and Taos all took part.  Students from Los Alamos Middle School, Cottonwood Classical, and Desert Ridge participated in the Middle School Speech Showcase.
New Mexico has a national champion!
Addison Fulton of Albuquerque Academy scored higher than the competition and took top honors in the Original Oratory category.  Addison, who just completed the 10th grade, delivered a self-written, ten-minute speech on the topic of dress codes, sexism, and racism.  Her speech was titled "Who do you think you're wearing?" Addison used evidence and logic to persuade her audience of judges that dress codes in school can be damaging to our culture and self-esteem.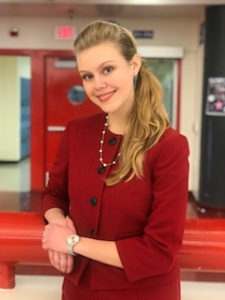 "It's an issue I think a lot of people in high school can relate to," said Addison.  "I've seen people targeted on how they were dressed as opposed to what they were saying. Some messages were being disregarded because of the clothing they were wearing. I saw so many instances of dress codes used to target marginalized groups."
The 10-minute speech was delivered from memory and the competition was done virtually. "It was quite a unique experience," Addison said. "In a lot of ways, it was more difficult than an in-person national tournament."
In her category, there were 175 other orators who were scored by judges from all over the country. "The final round had a panel of 15 coaches and alums of the highest caliber," she said. "Competitors in the past have been judged on originality, how unique the topic is, how you present, the argumentation structure, enunciation, how much evidence you use."
"My favorite line in the speech was toward the end," she said.  "I say, 'My shoulders are covered and my skirt is past my middle finger. Am I worth being listened to now?'
"It's the largest academic competition in the world," said Albuquerque Academy instructor Sheridan Johnson.  "Addison is the first student from Albuquerque Academy to advance to finals in a main speech (IE) event since 2007."
Other competitors from New Mexico:
Also advancing in Original Oratory from Albuquerque Academy was senior Hiyab Abraha, making it to quarter-finals. Advancing to octafinals in Humorous Interpretation from Albuquerque Academy was 10th grader Kira Small.  Advancing to rounds 7/8 of Public Forum debate were 10th graders Sofia Wolinski and Ankit Jaiswal.
Advancing to quarter-finals in Dramatic Interpretation from Los Alamos was Yunseo Kim, a ninth grader.  Los Alamos also had an octafinalist in storytelling, Izze Thomas.
Mireya Sanchez-Maes of Mayfield High School advanced to round 11 in Lincoln-Douglas debate, which places her in the top 30 students at the tournament, and out of all preliminary rounds, was ranked 40th at the tournament in speaker points.
10th grader Aubrey Amon of East Mountain High School advanced to round 9 of Lincoln-Douglas debate, placing her in the top 64 students at the tournament.
World Schools Debate Team Red, comprised of Lily Nakakura (10 grade, Albuquerque Academy), Abbie Francis (12th, Santa Fe Prep), and Amy Lewis (12th, Taos) made it to the double-octafinal round, placing them in the top 32 teams at the tournament. Coming out of prelims they were given the 11th seed.