SUBWAY STUDENT SPOTLIGHT: WYATT TERRAZAS, ESCALANTE HIGH SCHOOL
Wyatt Terrazas is about as tough as they come. He's suffered broken ribs, a punctured lung, and several bruises, but he still gets right back out there to compete.
He doesn't play football, or any of the other traditional team sports.
He competes in rodeo…and he's really good at it!
Wyatt is a senior at Escalante High School and he competes in bull riding.  He recalls his first riding experience as a toddler.  "My father used to ride bulls, his dad too, so it's kind of tradition," said Wyatt.  "I got on my first sheep when I was 3 or 4 and went up the line, sheep, calves, steers and now bulls.  My first bull was probably like when I was eight years old, it was a younger bull."
"I was a little bit nervous at first, but it was a confidence builder," he described that first bull ride. Confidence and hard work, that's what it takes to be successful.  "We try to ride every weekend," he said.  "We have a bucking barrel we practice on, we do it any chance we get."
Wyatt's years of practice have paid off.  Last December, he qualified for the Junior National Finals Rodeo in Las Vegas, NV.  "It was good, I did alright, but I expected to win," he said about his experience.  Wyatt did more than alright, he finished Reserve World Champion, which is second overall.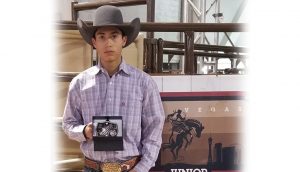 Sometimes, it's a bumpy ride to the top.   As an 8th grader, Wyatt qualified for the Junior High National Finals, but didn't get to compete because of an injury…or rather multiple injuries.  "It was at the time of the state finals," Wyatt recalled.  "I was supposed to ride the next day, but there was an event I wanted to ride in.  My dad told me to wait until tomorrow.  I was hard-headed and went and entered two events.  I got bucked off and stepped on.  I suffered broken ribs, a collapsed lung, a broken collarbone, it put me out for a while.  I couldn't wait to get back on."
Get back on.  Those are the three words Wyatt seems to live and ride by.  "If you 'aint first, you're last," is the phrase Wyatt says is his motto, as he quotes fictional NASCAR driver Ricky Bobby.
"He is a very kind-spirited, determined, and humble kid," said Escalante High School counselor Anna Atencio.  "He stands up for what is right and treats everyone with respect."
Wyatt also enjoys welding. He is currently working on earning his Associates of Arts Degree simultaneously with his high school diploma upon graduation in May.  "I plan to be a welder, bull riding won't last forever," he said.
The 17-year old New Mexico native from Brazos is hopeful the National High School Finals Rodeo is still a go this summer.  The event is the "World's Largest Rodeo" featuring approximately 1,500 contestants from across the United States, Canada and Australia.  Terrazas would like to cap off his high school career with a national title.  "I go to win, nothing else," he said.  Let's hope he gets that chance.