GET TO KNOW THE COACHES: MARK LOPEZ, LAS CRUCES HIGH SCHOOL
Mark Lopez is the head football coach at Las Cruces High School.  Lopez is a native New Mexican who was born in Las Cruces.  "I tell everybody I was a Bulldawg since birth," he explained.  His father won a state basketball championship with Las Cruces High School in 1959.  Mark is the third of four kids, "We were all Bulldawgs."  Mark received his college degree in Education from New Mexico State University.  He taught seven years of 1st grade, 9 years of middle school, and high school for the last seven.  He's been coaching the entire 23 years of his teaching career and this will be his fifth year as the Las Cruces High School head football coach.
Get to know even more about Mark Lopez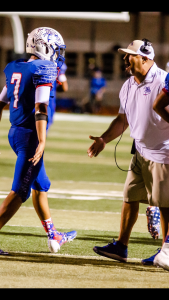 What was it like teaching elementary school kids?
I loved it, every step along the way. I wouldn't change my path at all. At that time, with that age, we taught reading, that was a big focus. I still remember where my classroom is located. It was a blast working with those little rug rats. Some of them grew up and eventually ended up playing for us, that was really cool.
What sports did you participate in high school?
I played all three, football, basketball and baseball.  I was a 3-year letterman in all three.  My favorite became football.  I was a big basketball guy growing up.  My dad was an assistant Athletic Director at NMSU and close to Lou Henson.  They're still close to this day.  Basketball was kind of my thing.  I also had success in baseball growing up.  I didn't start playing football until the seventh grade. The Friday Night Lights got to me, everything that surrounds it.
What was your favorite moment as an athlete?
Basketball comes to mind. I hit a buzzer beater to beat Mayfield, which is always good. I was a pitcher in baseball and played quarterback in the fall.  With football, we weren't that great. Coach Miller was my coach in high school. We didn't have a structured off-season at the time. There wasn't a lot of film watching. Both he and I saw the need for it. I would meet him in the weight room every day at six am. I would pack my lunch for school and we'd eat lunch together and watch film together. It started me on the path I ended up going down.
What's your favorite moment as a coach?
There's been so many. One that's hard to top is getting the opportunity to coach my brother, James, in 1999-2000 and win a state championship twice with him. That's a hard one to top. I had so many great kids.
What teacher or coach had the most influence on you?
Coach Miller, without a doubt, that's an easy one. To this day, thankfully he's a phone call away.  He impacted me greatly.
What was your favorite subject in school?
Probably math, I'm a numbers guy. I like numbers.
What tv shows do you watch on a regular basis?
Me, my son and my wife are all big Blacklist fans. We also like The Goldberg's and Modern Family.  I'm sad that one ended.
If I give you the power to put any movie on tv you want to watch, what movie would it be?
I think you can never go wrong with Rocky 1 thru 4. Although, my favorite all-time character is Doc Holliday in Tombstone.
What's your favorite candy?
Reese's
If you went on a long road trip and were in charge of the music, which artist would you play first?
You're going to get me in trouble because I'm all over the map. That's a difficult question. If you say 'first', you don't want to get too fired up early. It's hard to go wrong with Kenny Chesney to get things started and then go to AC/DC to get fired up.
If you could go on vacation anywhere in the world, where would you go?
That would depend, I wanted to take a beach vacation for a long time. Probably, a beach somewhere or Wrigley Field.
Have you been to Wrigley Field before?
I have. For 18 years, I coached baseball at Las Cruces High School. I went 18 years with no offseason. Then we carved out time a couple years ago and it was an awesome.
I've seen you promote many local businesses on social media.  What's your go-to local restaurant and what do you order?
Let's see, I have three.  Andele, their green chile chicken enchiladas are great. Nopalito, their chips and salsa are the best in the world. And the Santa Fe Grill, get a burrito.
What is your life motto?
We go by 'Be Strong'. Each letter stands for something, we teach lessons off of it every day. We give one 'Be Strong' lesson a day.
What do each of the letters stand for?
S is 'So what, now what'
T is 'Team First'
R is 'Relentless Perseverance'
O is 'Ownership'
N is 'No Fear'
G is for 'Grit'
Where did that come from?
A couple years ago, I read a lot of leadership books. I'm very interested in that study. I was reading all these great one liners to live by. I had no way to put it into one package. I spent about a month compiling all my notes and from the books and I ended up coming up with this. It worked out fantastic.