HALL OF FAME COACH FRANK CASTILLO ANNOUNCES HIS RETIREMENT
After four decades of coaching, Frank Castillo decided it was time to retire.
"Ultimately, I put 46 good years into APS, 42 as a head coach, I had a lot of discussions with my wife and my family, I just thought deep down inside that it was time," Castillo said.
The longtime La Cueva High School Boys Basketball Head Coach announced his retirement this week.  Castillo spent 42 years coaching boys basketball in Albuquerque, the last 34 years with the Bears.
"It's nothing to be sad about, it's a good thing," he said.  "It was time to walk away and do other things.  What those things are I have no idea," he joked.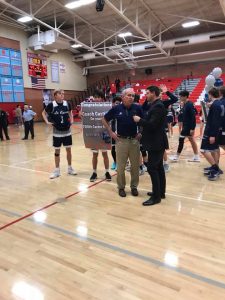 Castillo started his career at Cibola High School.  He racked up 739 career wins and five state titles with La Cueva.  In addition, Castillo had six state championship runner-up finishes. In 2019, Castillo was honored as the National Boys Basketball Coach of the Year by the National High School Athletic Association.  Castillo was also inducted into the New Mexico Sports Hall of Fame.  He has coached over 1,000 games over the course of his career.  With such an extensive resume of wins, Castillo says it's hard to pick out a favorite.  "There are so many memories, it's hard to put one ahead of another," he said.  "I will say probably the best memory is working with the players and getting to know them and establishing relationships with them.  Some of them remain my friends for a long time. Life is about relationships. When my youngest son Ryan was playing, we won back-to-back state championships and that was special."
While picking out a favorite win is an impossible task for the Hall of Fame coach, it didn't take him too long to recall one that slipped away.  "The one I wish we could have won was the state championship in 1999 against Hobbs," Castillo said.  "Both teams went into the game undefeated, it might have been the first time that happened. We had a good team, but so did they, they got us in the end (78-72).  We ended up the season 25-1 and I thought 'Dang!'"
Castillo has been flooded with well-wishes since the announcement, including many from players who suited up for Castillo's teams.  "Coach Castillo is a legend in New Mexico High School basketball," said former La Cueva standout A.J. Bramlett.  "The impact he has had on so many successful players and people over his decades at La Cueva is incredible.  I am happy for Coach and thankful that I had the opportunity to play for him and coach alongside him at La Cueva.  When you think of La Cueva basketball, you think of the name Frank Castillo and that is how it should always be."
Again, the Hall of Fame resume of Frank Castillo reads like this:
42 years as a head coach
739 career wins
5 state championships
11 appearances in the state final
Over 1,000 games coached
"It's a good feeling for me," he said. "I'm 100% positive this is the right thing to do."