RIO RANCHO'S BRIANNA GALLEGOS NAMED GATORADE NEW MEXICO SOFTBALL PLAYER OF THE YEAR
In its 35th year of honoring the nation's best high school athletes, The Gatorade Company today announced Brianna Gallegos of Rio Rancho High School as its 2019-20 Gatorade New Mexico Softball Player of the Year. Gallegos is the fifth Gatorade New Mexico Softball Player of the Year to be chosen from Rio Rancho High School.
The award, which recognizes not only outstanding athletic excellence, but also high standards of academic achievement and exemplary character demonstrated on and off the field, distinguishes Gallegos as New Mexico's best high school softball player. Now a finalist for the prestigious Gatorade National Softball Player of the Year award to be announced in June, Gallegos joins an elite alumni association of state award-winners in 12 sports, including Catherine Osterman (2000-01, Cy Spring High School, Texas), Kelsey Stewart (2009-10, Arkansas City High School, Kan.), Carley Hoover (2012-13 D.W. Daniel High School, S.C.), Jenna Lilley (2012-13, Hoover High School, Ohio), Morgan Zerkle (2012-13 Cabell Midland High School, W. Va.), and Rachel Garcia (2014-15, Highland High School, Calif.).
The 5-foot-8 senior outfielder and infielder batted .600 with four home runs, seven RBI and a 2.181 OPS in six games this spring before the remainder of the season was canceled. A First Team All-State and All-Metro selection, Gallegos led the Rams to the Class 5A state championship in 2019, hitting .515 with 36 RBI, 56 runs scored and 20 stolen bases, while tying the state single-season record with 19 home runs.
Also a talented singer, Gallegos has volunteered locally on behalf of a VA hospital and youth softball programs. "Brianna has been a leader on our team since she started in the eighth grade," said Rio Rancho High School coach Paul Kohman. "She tied the state home run record last year, even while missing five games because of a concussion, and I have no doubt she would have broken it this year."
Gallegos has maintained a 3.57 GPA in the classroom. She has signed a National Letter of Intent to play softball on scholarship at New Mexico State University.
The Gatorade Player of the Year program annually recognizes one winner in the District of Columbia and each of the 50 states that sanction high school football, girls volleyball, boys and girls cross country, boys and girls basketball, boys and girls soccer, baseball, softball, and boys and girls track and field, and awards one National Player of the Year in each sport. From the 12 national winners, one male and one female athlete are each named Gatorade High School Athlete of the Year. In all, 607 athletes are honored each year.
Gallegos joins Gatorade New Mexico Softball Players of the Year Briana Martinez (2018-19, Rio Rancho High School), Kali Crandall (2017-18, Artesia High School), Andrea Howard (2016-17, La Cueva High School), Santana Parra (2015-16, Centennial High School), and BreOnna Castaneda (2014-15, Rio Rancho High School), among the state's list of former award winners.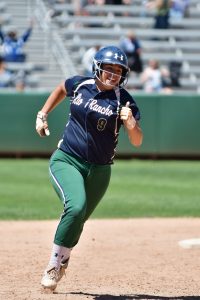 *release courtesy Gatorade