TOGETHER EVERYONE ACHIEVES MORE: LAS CRUCES HIGH SCHOOL BASEBALL COACH IS PART OF A SPECIAL TEAM
Las Cruces High School baseball coach Gil Padilla knows about teamwork.  He's been in charge of the Bulldawgs baseball program for more than 20 years and racked up over 300 victories.  But the problem he's assisting with today has nothing to do with balls and strikes, but rather life and death.
Padilla works for the New Mexico Health Department.  He's been with them for the past 25 years.  Padilla is a Health Promotion Specialist.  Typically, he works with elected officials and large community groups and helps promote population-based health.  "If it's passing a policy for the betterment of community health, I'm involved, that's what I do," he said.
Lately, Padilla has been on the front lines of helping defeat COVID-19.   "We are testing at our public health office," he explained.  "I coordinate the outside parking because it's curbside service."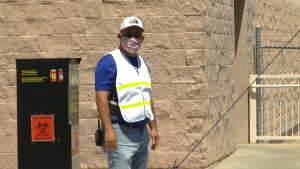 Padilla has seen, first hand, the rush to try and get everybody tested to prevent the virus from spreading in the community.  "It looks like our numbers are good down here, but they can change so quickly because you don't know who has the virus," he said.  "The testing is very important, but we also preach social distancing and staying home."
Speaking of home, is Padilla concerned about his own health and safety or the potential of exposing his family to anything?  "We are very careful," Padilla said.  "I wash my hands and do a lot of the preventative stuff.  I disinfect my clothes, as well."
Padilla first got involved with the Health Department after his college baseball career at New Mexico State University.  "I had my degree in social work and after working for non-profit for three years after I graduated, I applied for job and got it and they haven't kicked me out," he said.
When the students return to school, Padilla will preach the importance of preventative measures.  "Hand washing is one of the big things that needs to take place," he said.  There will be a new normal to our way of life.  "I greet people with a hand shake, now that's got to change," he added.  "People like to be close, now there's social distancing that's going to affect people.  It's going to affect sports one way or another. In baseball, the catcher and hitter are close to each other. I've seen some pictures back in 1918 where the players played with facemasks because of the Spanish flu pandemic. That could be a new norm."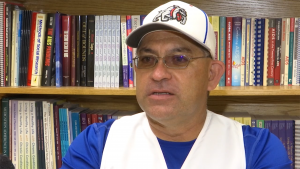 Padilla misses the interaction with his players.  "I'm having withdrawls, but we have to be safe because of how this can spread," he said.   Instead of a Bulldawg baseball uniform, his new team wears a different outfit.  Their goal isn't preventing their opponent from scoring, it's helping prevent the spread of a deadly virus. "The nurses who administer the tests, the clerks taking care of the intake forms, the program managers in the region to coordinate testing dates and outreach, we all have to stick together," he said.  "Together everyone achieves more."
Spoken like a true coach.
*photos courtesy KTSM