Even Without a State Championship Event, This Albuquerque High Student Athlete Still Finds A Way To Have Fun
No 2020 State Track and Field Championships? No problem for Albuquerque High's Mercy Mummert.  Several weeks ago, the spring sports season was cancelled because of the COVID-19 nationwide pandemic.  This past Saturday would have been championship weekend for several student-athletes around New Mexico.  Mummert decided she wouldn't let her senior season come to a close without one final hurrah.
The senior staged her own personal event this past weekend and pole vaulted in her backyard.  "We've had a pole vault pit for three years now because I don't practice at school," she said.  "I thought, 'It's state weekend, let's have a fun pole vault'."
Following the jump, Mercy's mother, Julia, presented her with a medal on a podium they built themselves.  "That was my dad's idea," said Mercy.  "He dug up an old medal and thought it would be fun."
Her father, Darrel, even gave his own account of the event on Facebook.  "We held the unofficial Class 5A Girls Pole Vault in our backyard today," he wrote. "The parking wasn't bad, the weather was fantastic with a slight tailwind, the lemonade was cold, the brats tasty and the event started on time."
In her career on the track, Mummert was a district champion in the pole vault and a two-time state qualifier.  Last year, she placed seventh at state.  This year, in her own backyard, she surpassed her 2019 mark.  "I hadn't vaulted in two months," Mercy said after her performance this past weekend.  "I vaulted my PR from last year and went higher than I jumped at state last year, 9-feet, six inches.  Jumping on Saturday was a good close to the season."
"What an effort and a way to end her high school career," Darrel wrote. "Not how she had planned, but she is persevering and moving forward."
With her pole vaulting career in the books, Mummert will now focus solely on soccer.  As a soccer player, Mummert helped her team to three district championships while earning all-district and all-state honors for three years. She will play college soccer at Hardin Simmons University beginning in the Fall of 2020. "I'm really excited because I've been out there to the University quite a few times," she said. "My grandma lives about an hour-and-a-half away.  It will be exciting to venture out of my hometown."
Mummert says she's been working out a lot at home for the past two months, lifting along with high intensity interval training.  She also works for the National Dance Institute as a costume assistant, but since there's no dance going on right now, she's utilizing her skills in another directions. "I've been making masks for several weeks," she said.  "I make about 20 masks a week for the past 5-6 weeks and distribute them to places like the cancer center, the hospital in Rio Rancho, and other organizations like the police and firefighters."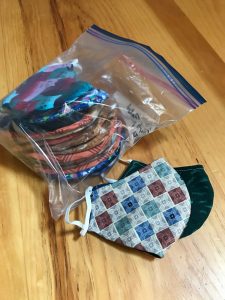 Earlier this spring, Mummert received an Extraordinary Participation Scholarship presented by the NMAA Foundation. Along with her involvement in school sports and activities, Mummert maintained a 4.58 GPA.
In addition to soccer and track, she was also a four-year letter winner in swimming, serving as team captain. Mummert also spends time volunteering as an after-school tutor, as a swim lesson instructor, at Carrie Tingley Hospital and at her church as a children's care helper. She was also selected as an APS and KRQE Selfless Senior in 2020.