A POSSIBLE STATE TITLE FOR THIS FARMINGTON STANDOUT WILL HAVE TO WAIT UNTIL AT LEAST 2021
Ethan Nguyen has been playing tennis since the age of 7.  He describes himself as an "all-court" player who is an aggressive baseliner.  He's competed in regional and sectional events around different parts of the country and is one of the top players currently in the state of New Mexico.
This was supposed to be the month Farmington sophomore Ethan Nguyen could maybe talk about winning his first individual state tennis title.  He finished runner-up as both an 8th grader and freshman.  Maybe this year as a sophomore, he could tell people about the epic state final against rival and defending state champ Georgio Samaha.  Maybe.
But thanks to COVID-19, that story is fiction.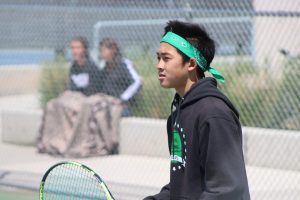 Nguyen, and all other spring sport student-athletes, never had the chance to compete because of the cancellation of his season and state championship.
"I think it would have been fun to compete at state again," said Nguyen. "I wish I would have gotten the opportunity."
In 2018, Nguyen was the #3 seed in the state championship bracket as an 8th grader and finished runner up to Albuquerque Academy's Abraham Yohannes by a score of 6-1, 6-0.  One year later in 2019, Nguyen had to settle for another second-place finish.  He went into the tournament as the #2 player in the bracket and lost to top-seed Georgio Samaha of Eldorado by a score of 7-6, 6-2.
"That was a tough match," Nguyen recalls from last year's final. "The day before, we got rain. So, I think we played like four matches that next day. We started the final late that evening. It was cold and starting to sprinkle and my whole team was out watching in blankets."
Ethan's biggest disappointment with the cancellation of state this year wasn't the fact he missed an opportunity to improve on his back-to-back runner up finishes.  The sadness had to do with the departure of his coach.  Longtime Farmington tennis coach Larry Larson announced earlier that this year would be his last.
"I was disappointed, mostly because it was my coach's last year," Ethan said. "He's one of my favorite coaches ever, he's such a cool guy. All of us were sad that was how our last year with him was going to be."
"He always has a sense of humor and he's there to pick us up. He was always there for emotional support. He's super kind, I don't think there's a bad bone in his body."
So, it's no spring season, no possible state title, and no goodbye send-off on the court for his coach.  It's just back to work.  Ethan says to build the perfect tennis player you need dedication and commitment.  "You have to go out and practice even when you don't want to," he said.  "You also have to try your best, even when you're playing bad."
When the COVID-19 restrictions are lifted, Ethan hopes to play in some events this summer.  But rather than wonder what could have been, he will spend his time tuning up for his chance in 2021.
"I'm definitely looking forward to next year," Ethan said.