A DIFFERENT KIND OF FRIDAY NIGHT LIGHTS FOR ALAMOGORDO HIGH SCHOOL
It's a different kind of Friday Night Lights, the kind that honors high school seniors and inspires hope.
Because of the outbreak of COVID-19, schools closed, spring sports were cancelled and the class of 2020 lost the opportunity to finish the year the way they had hoped.  Activities like prom, musicals, baseball and softball games, track meets and traditional graduation ceremonies were put on hold.  At Alamogordo High School, the faculty and administration wanted to make sure those seniors know they might not be present on school campus, but they are not absent from their minds.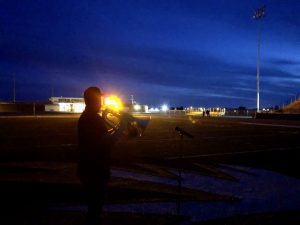 The school lights up the football stadium every Friday night at 8:20pm (20:20 military time) and remains illuminated for 20 minutes. The school's band director, David Bouma, plays their fight song to recognize the Class of 2020.  The touchdown bell rings as students drive by the parking lot and down the street honking their horns in celebration.
"We light up the stadium for the students and our community to let them know we haven't forgotten about them," said Alamogordo Athletic Director Dr. J.L. Walker. "It is also a tribute to our first responders and our essential staff at APS that have kept the light on for us through this tragic pandemic."
The event is live streamed as Alamogordo High School principal Dr. Ken Moore and Brenda Dorsey, the principal of Academy de Sol High School, congratulate the class of 2020, their staff and community heroes. The idea to light up stadiums across the country was apparently born in Texas and further developed in Colorado.  Other states across the country have joined in to honor their seniors. "It's just a way of letting the seniors, and all students, know we miss them and we believe in them," said Dr. Ken Moore. "It's heartbreaking to know we can't give them the traditional rite of passage on their graduation date. We will do it every Friday night leading up to our May 22 virtual graduation."
The scoreboard is also lit up to read 2020, in honor of this year's graduating class.  The lights signify hope, hope things return to a sense of normalcy. Hopefully, the resiliency these students have shown through this ongoing worldwide health crisis can be a light for others in the future.