SANDIA MATADORS REFLECT ON WHAT COULD HAVE BEEN
It was an odd beginning to the 2020 season for the Sandia High School baseball team.  The way it finished was even more unprecedented.
Let's start at the beginning.  The day was March 3.  The Matadors opened up the year against Eldorado High School.  Expectations were high for this Matadors bunch.  "We felt like we were on the short list to be in the mix to win a state championship," said Sandia head coach Chris Eaton. "The core of this group was juniors and we've been playing together for a couple years."
Eaton's expectations were not out of the realm of possibility.  The Matadors roster included five future Division One players, including Wichita State commit Aiden May. "I think we were more than just wanting to be decent," said the 6-1, 178-pound junior pitcher. "We wanted to push for a state title. We thought we had the right pieces. It was a matter of proving we could do it, or at least to get past the first round."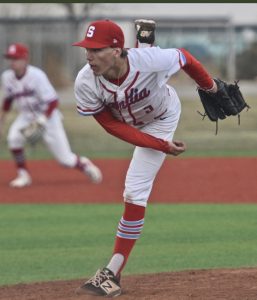 Sandia ace Jacob Kmatz was on the mound for the season opener.  Kmatz is a 6-3, 205-pound pitcher who was getting a lot of attention during the preseason.  "Jacob started garnering all these honors and hype," said Eaton.  "He's that special, a kid with a chance to pitch in the big leagues if he stays healthy and continues to improve."
Kmatz was throwing consistently in the low 90's.  The Oregon State commit threw seven innings and struck out 11 batters in his opening day performance.  He only gave up two runs that day and Sandia and Eldorado walked off the field with a season opening 2-2 tie.
10 days and three games later, the Matadors were preparing to take the field against traditional powerhouse La Cueva. "It was a beautiful day," recalls Eaton.  "Even the umpires were excited for this matchup."
"We were pumped up and ready to play against La Cueva," Kmatz remembers.
"We hadn't beaten those blue bloods, but we wanted to see if we could beat the La Cueva's of the state," said Eaton.
"It was probably an hour before game time and coach told us he got an email," said Kmatz.
That's when then whole season came crashing down.
"They were starting to put their shoes on and I had to tell them we just got an email saying the game has been cancelled and we are off for at least the next couple weeks," said the third-year head coach.
"At first we thought it was a joke," said May. "It took a second to process it."
Eaton and the other coaches around the state were notified all spring sports were suspended until further notice because of the evolving COVID-19 health threat.
"I told them we're done for the day," said Eaton.  "I told them this might be the last time all of us are on this field together."  For a possible sense of closure, Eaton turned on the scoreboard and the group played one last intrasquad scrimmage.
"That was the last time I saw them and the last time I've even been back to the school," said Eaton.
Shortly after, all spring sports were officially cancelled.  It was a tough pill to swallow for all student athletes statewide, but it was an even harsher reality for Sandia's lone two seniors Tristan Copeland Dante Caviggia.
"It hit Dante harder than most," recalls May. "This was his last chance to push for that state title. More than anything else, it was seeing how the news affected the seniors."
"It didn't hit me right then and there that the entire season could be cancelled," said Caviggia. "They told us this might be the last time we step on the field.  I got in my car and it hit me all at once.  I got all emotional and heartbroken."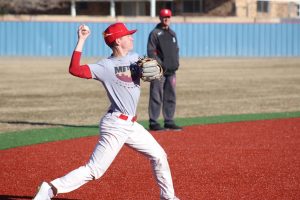 Caviggia may have missed out on his last opportunity to win a high school state championship, but fortunately his playing days aren't over.  "I will play collegiate baseball at Lamar Community College in Colorado," he said.  "Right when it was announced my final high school season was cancelled, I was heartbroken.  I was in a little bubble for probably a week and didn't want to talk or do anything. Then I had a talk with my family and they laid it out for me. They told me 'You should be thankful you're still going to play college ball and many others aren't and don't have that opportunity. That hit me in the face. I started to think about all the seniors who aren't committed to play college ball and the people who needed this year.  I'm lucky."
So, what now for the returning Sandia High School players?
Like every other high school spring sports squad, they have to look to next year. "Mentally, it's tough to turn the attention to next year and the offseason, but that's where we're at, the off season," said Eaton.
Players like Kmatz and May already have their eyes set on next season. "I've been throwing at home every day to keep my arm in shape and swimming a lot to stay active," said Kmatz.
The daily routine is similar for May. "I'm doing whatever I can to stay active," he said.  "I'm going on bike rides, doing push-ups in my room. I haven't gone to any location or field, so it's hard. It's persevering through the challenge."
Staying busy and active helps them to avoid reflecting on what could have been. "I feel like it's a missed opportunity, but I try not to think about it too much and just focus on the future," said Kmatz.  "I'll mention to the guys next year, this is our last chance.  Who knows what will happen? A championship hasn't been brought back to Sandia since 1980 and we want to do that."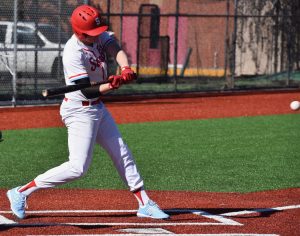 "There's always something positive to take out of it," said May. "I would love to be pitching right now, but hopefully this will make us all better and make us ready to go for next season. We have the same goals."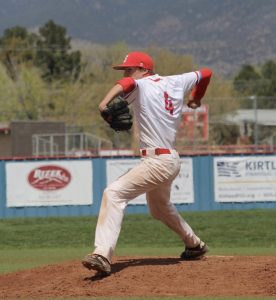 According to Eaton, this was the most talented team Sandia's ever put together.  "Sandia hasn't won it all since 1980," he said. "We talk about it all the time, putting a state championship banner up on the gym wall."
"We looked at the calendar and simulated the season," said the reflective Sandia coach.  "I'll probably do that until the last day of this season and say that date in May would have been a state title."
Now he'll have to mark it down on the calendar for 2021.