Mario Martinez Memorial Scholarship – Jordan Sanchez – Santa Rosa
The New Mexico Activities Association is excited to announce the recipients of the 2019-2020 NMAA Foundation Scholarships.  Over 150 students were nominated or submitted applications, with a total of $22,000 being distributed through 18 different scholarships.  There were nine scholarship categories.  The NMAA will recognize each of these students individually on our website and social media platforms.
Jordan Sanchez of Santa Rosa High School received a $1,000 Mario Martinez Memorial Scholarship.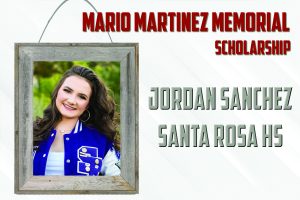 Jordan Sanchez, a senior at Santa Rosa High School, is a four-sport athlete for the Lions, while maintaining a GPA of 4.45 and is a member of the 'A' Honor Roll. Over the course of her high school career, Sanchez has helped her teams to qualify for the state championships in basketball, softball, track & field and volleyball.
On the playing surface, Sanchez has been named an All-District selection in softball and volleyball and an All-State pick in volleyball as a setter in 2018.
She is a member of the Los Amigos 4-H program and has collected top-5 finalist honors in Livestock Judging and Livestock Skillathon and, in 2018, she was the State Champion Livestock Skillathon winner. Sanchez has also been involved in BPA at Santa Rosa. helping her school win the state competition in 2016 and 2017. Currently, Sanchez is the FFA Vice President, the National Honor Soceity President and Student Council Secretary.