GET TO KNOW THE COACHES: JADEN ISLER, CLOVIS HIGH SCHOOL
In a continuing series, the New Mexico Activities Association would like to introduce you to many of the coaches around the state.
Jaden Isler is the boys basketball coach at Clovis High School.  The native New Mexican also played for the Wildcats in high school and led Clovis to the state championship basketball game in 2008.  He also played football for four years at Clovis High School under legendary coach Eric Roanhaus, but basketball was his passion.  Jaden signed with Charleston Southern University in South Carolina, but a heart condition prevented him from playing there.  His basketball career eventually took him to stops at Lubbock Christian University, Jacksonville Junior College and McMurry University.
Meet Jaden Isler.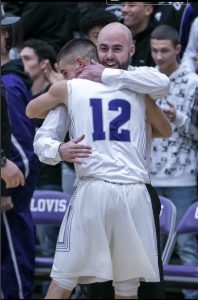 What was your favorite moment as a high school athlete?
It was playing in the state championship for my dad in 2008. Getting to be on the Pit floor and playing for him, the size of the crowd, that's probably one of the highest attended state championship games, that game was sold out and came down to the last seconds of the game.  It was amazing.
What's your favorite moment as a coach?
Probably my first state championship at Elida stands out the most. That year was crazy with the passing of my father and I stepped into my first coaching job. To take the reigns of that team and winning a state championship was very emotional.  It was such a crazy season, that stuff just doesn't happen.
What teacher or coach had the most influence on you?
There's a couple big ones in my life. Obviously, my father is the first. Coach Roanhaus is the winningest coach in football history and learning from him is a big influence in my life. Coach Hankins, the varsity assistant when I played, is kind of a father figure to me.  Matt Garnett, the head coach at McMurry, I still talk to him every week. He's a big influence as well.
What was your favorite subject in school?
My favorite subject was probably history. I've always liked history, other places in the world interest me. My mom was big in geography, she probably got me into that.
What tv shows do you watch on a regular basis?
Right now, I'm rewatching Lost, I stay off the internet to see how it turned out.
Suits is probably my favorite show.
If I give you the power to put any movie on tv that you want to watch, what movie would it be?
The entire Fast and Furious franchise. People are still watching this franchise and they keep making more. I guess they're still making money, probably off me.
What's your favorite candy?
Skittles, it's probably the only candy I like.  I'm not a big candy guy, but I can go down on Skittles all day!
If I called up the music on your iPod, what artist would I see the most songs from?
My playlist looks schizophrenic. Lately, it's been Post Malone's new album, but I've got country, everything.  People might get weirded out listening to my music, it's all over the place.
If you went on a long road trip and were in charge of the music, which artist would you play first?
I'd probably start with Eminem. Me and my buddy take trips and it usually starts that way.
If you could go on vacation anywhere in the world, where would you go?
A beach, let's say Bora Bora, some place hot with a beach.
If you could only have one food for the rest of your life, what would it be?
Medium rare steak. I grew up on a ranch, it's hard to get away from that.
What's your life motto?
Anything worth doing is worth overdoing, moderation is for cowards.