SUBWAY STUDENT SPOTLIGHT: JOSE TORREZ JR, ESCALANTE HIGH SCHOOL
Jose Torrez Jr wouldn't consider himself an outdoorsman, but he can appreciate the beauty of a place like Tierra Amarilla, New Mexico.  "You wake up and you're surrounded by the mountains and the wildlife, there's nothing that could replace this," he said.
Located near the Carson national forest in the northern part of New Mexico, Escalante High School is home to only about 100 students and Torrez is one of them.  He spends a lot of time outdoors in the fall while playing football.  He's a sophomore who participates in basketball as well as track and field in the spring.
He started playing football in the 3rd grade with the local YAFL football program.  "My first football memory was in the 5th grade when we won this championship," Torrez recalls.  "It made me feel great about myself and playing with my friends."
Jose plays center on offense and linebacker on defense.  He can appreciate the challenge of going up against another opponent on every play.  "I like that you get to test people's strengths," he said.  "You get to push them to the limits and see how strong they are and get to see how strong you are."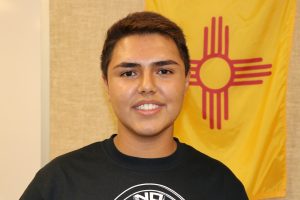 The three-sport student athlete continues to participate in sports because of the positive benefits he receives every season.  "I play because of the way it makes me feel," Torrez said.  "It makes me feel accomplished and makes me feel like I'm doing something good.
Regardless of his success, Torrez is always reaching for more.  "It makes me reach for more goals because I know I could do more than what I'm already putting out."
Torrez says he would like to pursue a career in the medical field as a nurse.  "I like to help people," he said.  "I want people to succeed like how people inspired me in my life to succeed."
Torrez says he was inspired by his mother and grandmother.  "They always told me to do my best and do whatever I can to get to my goals."