MAYFIELD HIGH SCHOOL GRADUATE GETS HIS SHOT IN THE WORLD SERIES
Mayfield High School graduate Doug Eddings is having his life-long dream come true.  The longtime MLB umpire was named one of the officials who will work the 2019 World Series.  It's the first time in his career he will have the opportunity to umpire in the World Series.  Eddings will be behind the plate in Game 2 of the World Series between the Washington Nationals and Houston Astros.  Eddings worked first base in game one.  He umpired in the National League Division Series this postseason. as well.
The following is an article and interview from 2018 when Eddings was selected as the Legend of the Game feature subject for the State Baseball Championship program.
For some baseball players, landing a spot on a Major League Baseball roster is the ultimate dream.  For New Mexico's Doug Eddings, his path to the majors involved calling balls, strikes and outs.  Eddings has been a major league umpire since 1999.
Eddings was born in Las Cruces September 14, 1968.  Like many kids, baseball became his passion.  He can thank his mother for getting hooked on umpiring.  She was on the Little League board and told 12-year old Doug he had to start umpiring some games at the younger divisions because they were one umpire short.  Umpiring a game was not Doug's first choice of how to spend his afternoon, but he had no choice.  As it turned out, he had to umpire three games that day.  At the end of the day Doug's mom handed him $36.
"What's that for," asked Doug.
His mother informed him that umpires get paid.  He really enjoyed his first experience so from that day forward, when he wasn't playing, he was umpiring games.
"I loved it and made a couple dollars on the side," he explained.
The rest is history.  Doug graduated from Mayfield High School and attended New Mexico State University.  He officiated high school baseball, basketball and football in New Mexico for more than 10 years. In 1989, Eddings attended Wendelstedt's Umpire School in Florida and eventually landed in the Arizona League.  From there he advanced to the Florida State League (1990-91), the Eastern League (1992-93), Texas League (1994), International League (1995-96), Pacific Coast League (1997-98), Dominican League (1994 and 1996) and Venezuelan League (1995).  After climbing his way up through the baseball ranks, he joined the Major League staff in 1999.
In 2000 and 2002, Eddings worked the National League Division Series.  In 2004, he was part of the crew at the All-Star Game in Houston.  By 2005, Eddings was working the American League Championship Series between the White Sox and Angels.  When 2006 came around, Eddings was one of the umpires who represented Major League Baseball during the Japan All-Star Series.
Just last year, Eddings served as Replay Official during the 2017 All-Star Game in Miami as well as working the World Baseball Classic.
Eddings was a part of history in 2001 as he was the home plate umpire for Cal Ripken, Jr's last Major League Game.
When he's not part of an umpire crew, Eddings enjoys golf, working out and riding his Harley-Davidson.
Doug is married to Margarita and they have two daughters, Mia and Myia Lou. Margarita is an assistant basketball coach at Mayfield High School for the girls varsity team. Doug's father-in-law, Manny Trevizo, was a basketball coach in NM for over 40 years.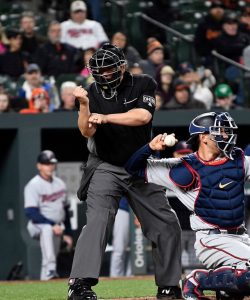 One-on-One with Doug Eddings
What do you remember about growing up in New Mexico?
Born and raised in Las Cruces. I remember I loved playing baseball/umpiring and officiating basketball and football. I had 2 great parents that raised me and supported me. I went to umpire school when I was 20 years old. I thought I would move away (Phoenix or Florida) but Las Cruces always pulled me back after 10 years in the minors. Went to some great cities in that time but Las Cruces and New Mexico was my love. So I have always lived in New Mexico.
What was it like calling your first major league game?
It was August 16th, 1998 a day game and I worked in Chicago at Comiskey Park. It was the Seattle Mariners vs Chicago White Sox. I worked 2nd base that day. I had a steal play in the top of the 1st inning. I called Seattle player Alex Rodriguez out. He gave me a bit of grief but the game continue and 2 hours and 30 minutes later the game was over and I had worked my 1st MLB game. Great Day!
What sort of schedule does a Major League Baseball umpire have? What's a typical week or month like for you? 
So I get a schedule from the beginning of the season to the end. I work with three other umpires during the season. I get four separate weeks of vacation time during the season. So time to time I'll be home for a week. I usually work between 120-130 games a season. The longest stretch without a day off is going to be 21 days this season. Long time without seeing the family. I travel to all 30 cities in the major leagues. You work a series 3-4 games and off to the next city. A lot of miles and hotels during the baseball season.
What would you say is the highlight of your professional career?
Flying my Mom and Dad to Chicago to see me work. Also, flying my whole family to the 2004 All-Star game in Houston.
If you weren't a umpire, what do you think you'd be doing?
Over the years I've met several secret services agents. And my best friend was in law enforcement. So I have always said I would have been a secret service agent or in law enforcement.
How long do you see yourself umpiring? 
I think the plan is 11 more years after this year. God willing!
What advice would you give someone else who would like to pursue a career in officiating?
Give it all you got and don't give up on where you want to be or get to in your career.
Douglas Eddings
MLB UMPIRE #88