CHEER AND DANCE TEAMS HELPING OUT WITH COMMUNITY SPIRIT
The idea behind a cheer team is to help spread positive spirit.  Several high schools in New Mexico did just that this past weekend.
Many teams got together to take part in the 10th Annual Buddy Walk, an event to celebrate those individuals with Down syndrome.  The Buddy Walk is the largest fundraiser of the year for the Rio Grande Down Syndrome Network, raising money for activities provided by the RGDSN.
"We began participating 5 or 6 years ago," said Cleveland Dance Team head coach Nicole Kaufman. "I was made aware of the event because one of our dancers, Tianna Habersham, had downs and participated in the walk."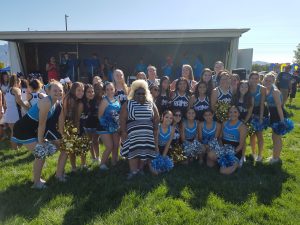 "I think it's an amazing opportunity for our young people, who get to put on a uniform, to get out in the community and become role models."
The Storm Dance team performed during the festivities and the cheer students interacted with participants and celebrated with the families and teams participating in the walk.  In addition to Cleveland High School, La Cueva, Rio Rancho, and Valencia also took part.
"The girls can't wait for this event," added Kaufman.  "They love dancing with the families.  It was cool to have their peers come up and give them high fives."
Since 1995, the Buddy Walk has become the premier advocacy event for Down syndrome in the United States. It is also the world's most widely recognized public awareness program for the Down syndrome community.