ROSWELL COACH SAYS "WE HAVE ENOUGH PHYSICAL TALENT TO REPEAT"
As the 2019 High School football season approaches, we will preview the defending state champs in each class.
Class 5A
Roswell High School
2018 record: 11-2
Head coach: Jeff Lynn
Last game: 42-6 win over Los Lunas
2019 Outlook: The Coyotes have a good group returning.  You can expect Roswell to be explosive again offensively, but they haven't solidified their starting running back spot yet. Their strong positions on defense appear to be in the secondary and up front.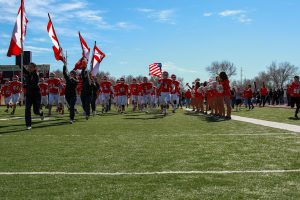 Key returning players: Jasia Reese WR/DB, Dominic Nava QB, Josh Castillo OL, Issac Hurst DE, Joel Sanchez SLOT/DB, Julio Garcia OL, Xavier Lomeli OL
"If we are going to be successful again, we need to be good teammates and play the game the right way. We have enough physical talent to repeat; the intangibles will be the determining factor of whether or not it gets done."-Jeff Lynn