STATE'S TOP RUNNING BACK RETURNS AFTER SURGERY
As the sun rises on another New Mexico morning, a new football season is getting underway.
"Coaches' Christmas Eve last night," is how Cleveland head coach Heath Ridenour described the first morning of practice.  "I didn't sleep very well because I'm excited to be here.  If you love the game and love the sport, you're excited about today."
The first official day of high school football practice was Monday and it couldn't come soon enough for Cleveland High School running back Dorian Lewis.
"Ever since I had surgery I was trying to get cleared and get back on the field with my team," said an anxious Lewis.  "The day has come and we're all so excited about it and prepared."
Lewis was off to a stellar beginning to his career as a member of the Storm.  The El Paso transfer rushed for over 15 hundred yards and 20 touchdowns last year.
"Spectacular athlete, you're going to get your monies worth out of your admission ticket," is how Ridenour described Lewis.  "Take that and multiply it by five and that's the kind of person he is.  He's one of the best people I've ever been around. He's humble, gives credit to his teammates, got a great family, that's Dorian."
Then Lewis suffered a torn ACL in the 9thgame of the season on what looked like a routine tackle.
"What the doctors told me, it was tough, but I knew I had to do something about it," he said.
After surgery and months of rehab, Lewis says the leg feels great and he's anxious for his senior season to start.
"It feels great, it feels better than what I started at last year," Lewis said.  "I'm probably in the best shape I've been in my whole life."
"He had his surgery, he rehabbed well," described Ridenour.  "He worked hard to get through his rehab.  He worked hard here in the weight room, he worked hard on his own. I feel confident in saying he's 100% now ready to rock and roll."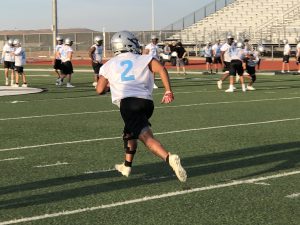 In 2018, Lewis was named the Gatorade New Mexico Football Player of the Year. He averaged over 11 yards a carry and he's out to repeat that feat in his final season.
"The sky is the limit with him, he can catch the ball, he can go anywhere he wants to go," said Ridenour. "I hope he gets the opportunity."
"I'm ready, the feeling is so good, I love it," said Lewis with a smile on his face.
Cleveland will open the season August 23rdat home against Onate High School.