ROBERTSON FOOTBALL WORKING HARD FOR WANTS AND NEEDS
Always the bridesmaid, never the bride.  That saying applies to the Robertson High School football program.  The Cardinals made it all the way to the state championship in each of the last four years, but came up short of the title every time.
"Since my freshman year we've been to that game every year," said senior lineman Mackenzie Ebell. "It's tough to lose, it kills your pride but it makes you hungry to try and get back there every year and win it."
"It hurts every time we lose, but hopefully this year we can change that," said Robertson senior quarterback Antonio Padilla.
"We're always knocking on the door and we can't open it," said head coach Leroy Gonzales.  "We want to knock it down."
LeRoy Gonzales is in his 10thseason as head coach at Robertson.  There's one thing he wants even more than that championship blue trophy, a healthy kidney.
"I've had a kidney transplant before, something went wrong with the kidney and they told me it would only last 4-5 years.  It lasted five, so I had to go back on dialysis."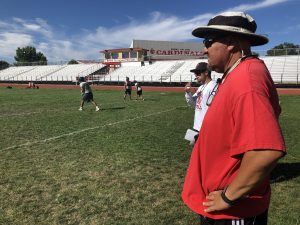 Leroy Gonzales has been battling kidney disease for over 12 years, but he's on an organ transplant wait list for more than just a kidney.  "I'm getting a kidney-pancreas (transplant)," he said.  "If I can get both of those I wouldn't have diabetes anymore and I've been a diabetic since I was a kid."
Gonzales goes to dialysis three times a week.  Sometimes the Cardinals have to practice at five in the morning, so coach can both attend to his health needs AND lead his team in the game he loves.  "Maybe they might call me now and I have to leave and I trust these guys," said Gonzales.  "I trust my assistant coaches, I trust the players.  These players understand, they've been with me so they know what I'm going through."
"Whenever he's not here we try to work as hard as we can and practice like he is there," said Ebell.
"He's a warrior so we try to be like him," said Padilla.
Sometimes the warrior gets a little worn down, but being on the field helps pick him back up.  "After dialysis, it knocks me out pretty bad.  I had dialysis last night, my back is hurting, but I have to get through it. These guys are relying on me to be here, so I'm going to be here."
The Cardinals and their coach continue to push through practice, both in the hopes of getting what they want and need.