FOOTBALL PLAYER ON COMEBACK FROM CANCER "Never take anything for granted"
What looks like just another Lift-A-Thon by a high school program getting ready for the upcoming football season, but it's actually the beginning of a comeback story.
Last September, La Cueva's Tyler Jenson noticed a little bump that altered any plans he might have.
"I was coming home from hanging out with another football teammate and I noticed a little bump underneath my armpit," he described.
"We just figured he had some sort of a pulled muscle," said Tyler's mom Michelle.  "Never thought cancer, for sure."
"Turned out to be a Stage 3 Hodgkins lymphoma Type A," said Tyler.
Tyler, a 15-year old at the time, didn't know what that meant at first.
"Once they said the big C word, cancer, I was like 'Dang', it really hit me then."
"It was just a shock that a kid so vibrant and young and all this energy and all this ability just sidelined with such a terrible, terrible disease," said La Cueva head coach Brandon Back.  "It was scary for sure."
Instead of playing football, his future now involved multiple rounds and cycles of chemotherapy.
"Emotionally, obviously, the worst thing we've ever gone through," said his mother.  "Watching him go through chemo and his body tear down and not do what he wanted to do was really challenging to watch."
"I was like, 'let's get it over with'," said Tyler.  "It's something I have to do with, there's no way around it, just hook me up and let's get it juicing.  I did have a lot of time with my friends that helped."
"The foremost measure of a man is to be present," quoted Back.  "to help somebody in a bad situation, you can't do anything if you're not present.  You have to be present in his life.  Present in the hospital, present when he's out of the hospital, when he's having good days, when he's having bad days.  That's what we tried to focus on.  We try to go through it with him, but you just can't.  He battles that disease.  He's the one that's gotta throw up all the time with chemo and he's the one that's gotta lose his hair.  Our job is just to be there and be present in his life and try to lift his spirits when we can and try to help out with whatever we can do.  I'm just so proud of our boys and our community for that."
Tyler, now 16, has been cleared and is back lifting alongside his teammates with official practice right around the corner.
"This year I'm really giving it my all, just focusing on lifting and getting back on the field. I'm a junior now and I want to get noticed so I'm really just going hard."
"We're excited to see what this season brings for him and to see him on the field and see him doing the things he loves and grateful that he can," said an excited Michelle.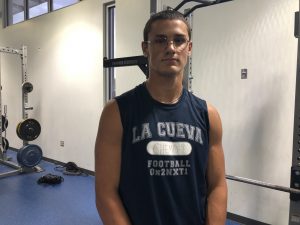 As Tyler suits up as either a running back or slot receiver or safety, he enters the season with a new perspective on life.
"Never take anything for granted, just one day at a time.  Always go as hard as you can because you never know when your life can change just like that."