CARLSBAD GOLFER IS 1ST RECIPIENT OF COMPETE WITH CLASS SCHOLARSHIP
The New Mexico Activities Association awarded a $1000 scholarship to Carlsbad golfer Caitlyn Sanchez for her unselfish act of sportsmanship during the State Golf Championships this past May.  Sanchez pushed the golf cart of her competitor, Piedra Vista's Sam Harris, during the remainder of the round when Harris was struggling with a hand injury.  The two had never met before playing together in this event, but the Carlsbad junior could see that this player in her group was struggling.
"When I first started the round, I noticed the wrap on her hand," recalled Caitlyn.  "I said, 'If you want, I'll help you push your cart.'  I told her I used to be an athletic trainer." Caitlyn worked as a trainer for her high school during football and basketball season her sophomore year.  "Golf is kind of an etiquette sport," explained Caitlyn.  "I felt obligated to help her get around as much as possible."
"We try to promote sportsmanship with our athletes," said Carlsbad golf coach Bryan Jones. "I'm more proud of her for this than if she shot a 72.  This will follow her for the rest of her life."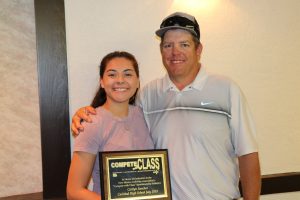 "We think it's so vital we have people like Caitlyn in this world," said NMAA Executive Director Sally Marquez.  "This girl stepped up when she didn't have to, but she helped someone else out of the kindness of her heart.  These are the types of kids we want to reward."
The New Mexico Activities Association, in conjunction with the NMAA Foundation, will be awarding a maximum of eight (8) $1,000 Compete with Class scholarships during the 2019-2020 school year.  Awards will be given to students that best exemplify the three pillars of the Compete with Class sportsmanship initiative – Respect, Integrity, and Responsibility.  Recipients will be selected by the NMAA Foundation Board of Directors based on recommendations from the NMAA and its member schools.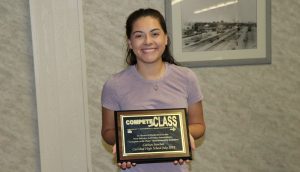 click the link below to read more about Sanchez
https://www.nmact.org/2019/05/compete-with-class-carlsbad-golfer-lends-a-helping-hand/