EUNICE FOOTBALL UNDER NEW LEADERSHIP
As the 2019 High School football season approaches, we will preview the defending state champs in each class.
Class 2A
Eunice High School
2018 record: 12-0
Head coach: Greg Jackson
Last game: 35-6 win over Santa Rosa
2019 Outlook:  The Cardinals are under new leadership since Ken Stevens left Eunice to coach at Hobbs High School.  Jackson spent time as an assistant in both Lovington and Hobbs, so he is familiar with southern football.  Jackson says he has great kids, great administration and great fans and admits maintaining the level of success at Eunice is the biggest challenge with accepting the job.  "With great support comes great expectations, but it's a lot better than the alternative," said Jackson.  The Cardinals return a quarterback that hasn't lost in two years.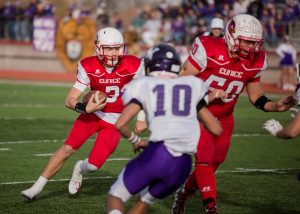 Key returning players: Mason Caperton, senior QB; Felix Gonzales, senior LB; Avante Stevens, senior WR/DB, Noah Mendoza, senior OL
"If we are going to be successful again, we need to compete every single day, every single drill and every single rep whether we are on the practice field or weight room or whatever. We have to understand we are going to get everybody's very best shot."-Greg Jackson