"I HAD BEEN GOING THROUGH TORTURE": PIEDRA VISTA BASEBALL PLAYER BATTLES WITH CANCER
Imagine you are a 15-year old kid, active and energetic, and then your life is turned upside down by a life-threatening illness.  Fever, bruising, bleeding, constant vomiting, these are all symptoms you have to deal with. Imagine you are the parent of that 15-year old kid and you have to watch your child endure multiple rounds of chemotherapy, six surgeries in a month, living in a hospital instead of your home, hoping there's a way to rid his body of this horrible disease.
That's the life the McGaha family has been living for the past several months.
Last fall, Piedra Vista baseball player Max McGaha was diagnosed with Acute Myeloid Leukemia or AML. It's a cancer of the blood that starts in the bone marrow and spreads to the bloodstream.  According to childrensoncology.org, it's more common in adults, but each year approximately 500 new cases of AML are diagnosed in children in the United States.
Max was one of those cases.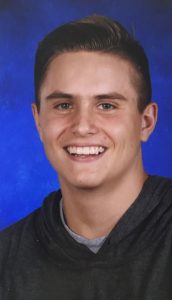 It all started back in September.  Max was heavily involved in baseball, a sport his father coached for years.  Max had symptoms of what appeared to be a cold. He just couldn't seem to shake it.  He had a cough, runny nose and occasional nose bleeds (which he had multiple times growing up).  Six weeks later, he still couldn't shake it.  "I would get up and go to Driver's Ed class at 6:30am, followed by school, weightlifting, baseball practice and then more workouts," explained Max. "Every day the back of my head would pound and I couldn't ever hardly catch my breath.  I had no energy and just thought I was out of shape."
"We just thought he was run down," explained his father. "It was taking forever to get rid of this cold."
Max then started to develop really bad pressure headaches at the base of his skull and started having strange bruising he couldn't explain.  "Literally, his eyes would itch and then he'd rub them and have a black eye," Mike described.  "He always had nose bleeds and we didn't think anything about it, but now they wouldn't stop."
Mike spoke to a friend of his who is a doctor in Farmington; he prescribed a blood lab to try and determine what was going on.  The test was on a Monday and by Tuesday evening they got a call from the doctor.
"You need to get Max to the ER," was what the doctor on the other end of the line told Mike.
"We went to Albuquerque to run more tests and never even went to the emergency room," Mike said. "We went straight to the 7thfloor at UNM hospital to the special care unit and they admitted him."
A normal platelet count is considered to be anywhere in the range of 150,000 to 450,00 per microliter of blood.  Max's platelet count had dropped to 20,000.  After further tests, those three letters became a part of his life…AML.  "I was kind of relieved at that point when we knew what it was because I had been going through torture for the first eight weeks of school," said Max.
With no time to waste, doctors subjected Max to a bone marrow biopsy, put a tube in his chest and Max underwent his first chemotherapy treatment that Wednesday.
"The first month was rough, about 30 days in the hospital," said Mike.  "Once you have chemo, you have no immune system and so they keep you in a sterile environment and hope and pray you don't get pneumonia.  Max contracted strep throat and was throwing up from the chemo.  Then his incision split from vomiting so much."  Every morning at 4am, a team of nurses would come into his hospital room to draw a blood lab and cultures.  With veins shrunk from the chemo, they had a hard time finding the right spot and would poke and prod.  "To try and avoid the pain from poking his arms, they put a line into his hip into his femoral artery," Mike described. "We were in our third week of the first month of treatment and they decided his numbers were rebounding and it looked like thankfully we were going to go home for a rest.  But you can't go home with a femoral, so we had to stay longer."
Max described the experience as pure suffering.  "I had nosebleeds that lasted up to five hours," he said.
Next came the bone marrow biopsy and a spinal tap.
"He got a spinal tap headache, that kept us in the hospital for another ten days," said Mike.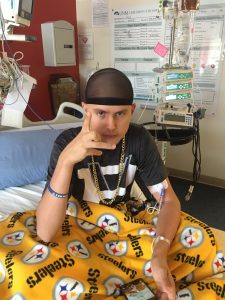 The family was home in Farmington for six days in October before being re-admitted for round two. Max underwent more of the same treatments with another hospital stay for three weeks.  Without any major issues, Max was starting to regain some signs of his old self.  "Max rebounded fast and we got a glimpse that if we can get through the treatments, he can come back to normal," said Mike.  Max weighed 180 pounds before the whole process started.  At his lowest point he dropped to 120.
A bone marrow transplant would be necessary, so the family flew to Denver in November for a bone marrow consultation at the Colorado Children's Hospital.  Spending both Thanksgiving and Christmas in the hospital became a certainty.
Round 3 of treatments back in Albuquerque proved to be the most difficult.  "It's the shortest amount of chemotherapy with the hardest hitting impact," described Mike.  "It's unbelievable the amount of pain the kid had to endure."  Mike and the team of doctors began walking a tightrope of medications to help treat any condition that could arise and balance it with helping keep the cancer away.  By the first week of January, they were discharged from UNM Hospital.  "We were extremely tattered as a family," said Mike. To make matters even more challenging, the family had to drive through terrible winter conditions to return to Denver for bone marrow screenings.  The journey took them 11-and-a-half hours on the road.
After two weeks of consultations and tests, doctors determined their oldest son, Cody, was going to be the donor.  "Unfortunately, Max developed an antibody to Cody's DNA so they decided to use me," Mike explained.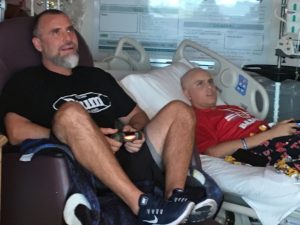 By the first week of February, Max was wiped out. They gave him 1.7 liters of bone marrow from his father. The first sign of a successful bone marrow transplant, or engraftment, is a rising white blood cell count. The numbers started to build in his favor. "He was in the hospital for a total of 41 days and on the 41stday the blood lab came back that Max was producing his own hemoglobin," said Mike.  They were going to be discharged from the hospital.
Since being discharged, the McGaha family has been staying up in Denver to be monitored.  Max has bloodwork drawn twice a week and every Wednesday he has an outpatient appointment while his body continues to adjust. Typical recovery time for a bone marrow transplant is three months.
The next weeks would be full of watching and waiting.  Finally, they received some of the best news they could hear.
They would be headed home.
"Recently we had every prayer answered," said Mike.  "One of the medications he was going to have to take for six months was shortened to 6-8 weeks.  Another medication was completely removed.  We were originally expected to return home May 15thand now it looks like we might be home May 8-9.  The doctor told us, 'Whatever you're doing, keep doing it.'"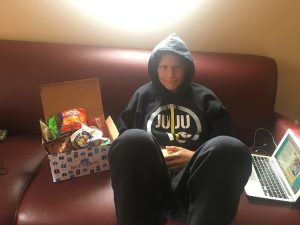 Max is expected to make a full recovery. "I feel like I could go play a baseball game right now, but I can't," said Max.
"We're expecting him to play baseball in the spring of 2020," said Mike.  "Doctors say it's a longshot to play baseball this summer, but there's no reason why he can't in the future."
Once he returns home to Farmington, Max will likely have to wear a medical mask for 9-to-12 months to prevent infection.  Medical mask or not, he's looking forward to being back with his friends.  "I cannot wait!," Max said.  "I'm really excited because it felt like so long since I did simple things like sleeping in my own bed and not waking up in a hospital room. I miss hanging out with my friends and I miss my dog Sugar, too."  Max will also have to return to Denver every three months for bone marrow follow ups, but he can muscle through a few more road trips after the suffering he underwent.
After seven months of hospital visits, blood loss, chemotherapy, pain and mental anguish, a healthy outlook is finally in his future.
"The outpouring of support from the community in Farmington and the baseball community of New Mexico has been unbelievable," said a thankful father.  Autographed jerseys, personal visits, funds raised, the list goes on and on.
"We've had people take care of our home," said Mike.  "We've had people buy shoes and clothes for Max.  We've had people feed us.  We've had Farmington School employees donate their vacation days to us.  We've been blessed in ways you can't imagine.  You can't repay it and there's just no words to describe how grateful we are."
"I had no idea how many people cared about me and my family," said Max.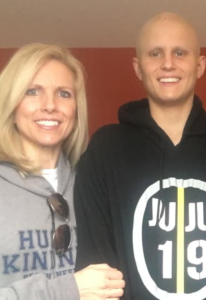 This was something no family should have to experience.  "If you were my biggest enemy, my heart would break for you if you had to go through what we had to endure," said Mike.  The McGaha family says their faith is what helped them through this challenging time. Faith, along with the enormous help and support of a community, got them through a terrible time in their lives.
At the beginning of this story I asked you to imagine yourself in their position.  Now imagine that it's the spring of 2020 and Max is back on the baseball field, healthy.  That's the picture they'd like you to imagine.
"It's not over," said Mike. "It's only the beginning to the unknown. We're trying to embrace that."