IS THIS HIS YEAR? LOVINGTON SENIOR HOPES TO LAND 1ST STATE TITLE
Albuquerque Academy has dominated boys tennis for the last decade and a half.  The Chargers have won a team title each of the past 16 years. A player from Albuquerque Academy has won the individual state title in the state's second largest classification in 12 of the last 14 years.  But if there's someone with a shot to take the individual crown from the king of boys tennis, it might be Lovington's Jace Crawford.
The senior standout is 37-1 on the year.  The past two seasons he racked up a record of 72-4.  Last year, Jace lost in the state semifinals.  "That stuck in my mind," he said.  "I didn't play as well as I should have and mentally was not there."  After an off-season of improving his serve and developing a stronger forehand, Jace feels ready to make another run at the title. "I'm just going to go all out."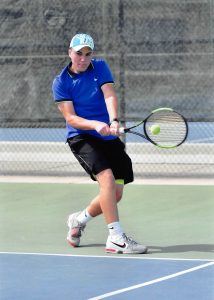 Jace started playing tennis at a young age.  "We had a ping pong table at home, but I didn't play on the table," he recalled. "I had a paddle and a ball and hit it against the wall in the house."  When he eventually traded the paddle for an actual racket, it didn't take him long to succeed.  "The first tournament I played was with my older brothers (Cameron & Christian)," Jace said.  "I got to the final in my first tournament and played my second oldest brother (Christian) and I beat him 9-7.  I think we still have the picture."
Tennis is all in the family at the Crawford household.  Jace's father, Jimmy, has coached at Lovington High School for 17 years. Jimmy knew his baby boy was destined for a future in tennis after he watched his youngest son at a tournament in Texas several years ago.  "Jace was 8 years old and I knew this was a child who was going to be something special," Jimmy said.  "Jace was down 2-6 to a competitor at a tournament in Lubbock.  During a changeover, Jace came over, knelt down and said 'Dad, I'm going to come back and win this.'  He was down 2-6!  It's not looking good.  Even the opponent's parents overheard this and chuckled.  Jace turned on the juice and won 9-7.  Right there, I said this kid is going to be something special."
Jace enjoys being coached by his father.  "You are pushed harder and it makes me better," said the 17-year old.  "If I was coached by anyone else I probably wouldn't be as good."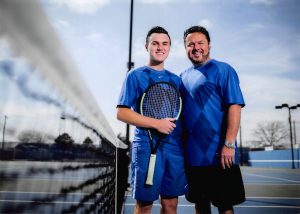 Jace has his eyes on the prize.  He would love to win that elusive state championship.  "I think I've grown in my game," he said.  "What I stay true to is that no matter what I have to do, I'm going to do it.  Whether it's 20 minutes on the court or 20 hours."
Jace is Lovington High School's all-time winningest tennis player.  He has a 4.4 GPA and will graduate in the top 10 of his class.  He signed a National Letter of Intent to play tennis at Western New Mexico in the fall.