COMPETE WITH CLASS: CLEVELAND GOLFER LOOKING FOR REDEMPTION
Every sport has rules and golf is no different.  What makes golf unique to other sports is that often the players self-report violations. It's that honor and integrity and character that cost one individual a state title last season.
Rewind to last May. It was the final round of the state championship at Pinon Hills Golf Course and Cleveland High School golfer Enrique Armijo just drained a putt on the last hole that would win him the individual state title…at least that's what he thought at the time.
The sophomore signed his scorecard that read he shot a 70 that day.  Shortly after posting the number, Armijo looked up at his number on the board and realized his score was incorrect.  He actually shot a 71 that day, not a 70.
No one would have ever known if Enrique would have left the score posted as-is.  But Enrique would have known.  He couldn't live with that.  Enrique went to the tournament official and told him the score posted was incorrect.  Signing an incorrect scorecard resulted in his disqualification and cost him the individual title.
"If I didn't tell them, I would have had to live with that," said Armijo.
One year later, Armijo looks back on that event as a learning experience as well as motivation heading into this year's state tournament.  "I joke about it a lot, hopefully I'll sign the right scorecard," said a reflective Armijo.  "It hasn't bothered me too much, it's a part of life.  It's really made me a better player that I was able to move forward from that."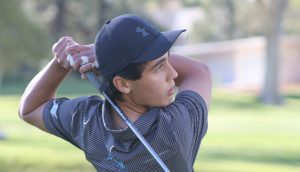 The Class 5A NMAA State Golf Championships get underway Monday at the Canyon Club in Albuquerque.