SUBWAY FEATURED STUDENT: ANDRES BLEA, ESCALANTE (and other track standouts to watch this week)
Andres Blea is a three-sport student-athlete at Escalante High School.  He plays football, basketball and runs track.  It's his numbers on the track that get most of the attention.  "I tried out for track my eighth grade year and I've liked it ever since," he said.  He also found out he's pretty good at it.  Blea competes in the long jump, 110m & 300m hurdles, 200m run, along with running on their relay team.  This past February, he was invited to compete at the Simplot Games in Pocatello, Idaho. It's North America's Premier Indoor High School Track and Field event.  Blea jumped a personal record of 20'7".  "It was a great experience being able to compete there with other people around the country," he said.
Blea won the long jump event at the state meet in 2018 after going 20'2.75". "My numbers this year in the long jump haven't been as constant, but I hope to do good," he said. This year, he is out to try and break the record in the 300m hurdles.  "My coach would always have us do 400 meters instead of 300m," the senior described.  "It gives me the extra endurance to go the extra 100 meters."
Andres says his entire high school experience in Escalante has been great.  "It's fun getting to learn more things about what I can accomplish," he said.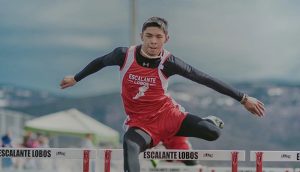 You will be able to watch Andres Blea at the A-3A state track and field meet this weekend.
Here are some of the other athletes to watch this weekend:
Class A
Girls
Nataley Mondragon, junior, Melrose : 100m*, high jump*, 400m, 200m
Angie Lopez, senior, Des Moines : shot*
Angela Lackey, senior, Quemado : 800m run, triple jump (def champ in both), 400m, high jump
Boys
DJ Mathis, junior, Quemado : 100m*, 200m (def champ in both), long jump
Devon Bailey, sophomore, Melrose : 110m hurdles, 300m hurdles (def champ in both), long jump, 200m
Deven Thompson, senior, NMSD : shot, discus (def champ in both), high jump
Jude Segura, senior, Ft. Sumner : 100m dash, 200m, 400m, 800m, javelin
Class 2A
Girls
Ajia Hughes, sophomore, Cloudcroft : 100m hurdles, triple jump (def champ in both, also won 300m hurdles in 2018), long jump, high jump
Cerria Lucero, junior, Hagerman : 1600m (def champ, also won 3200m in 2018), 800m
Boys
Martin Flores, senior, Hagerman : 1600m, 3200m, 800m (def champ in all three), 400m
Andres Blea, senior, Escalante : long jump (def champ), 110m hurdles, 300m hurdles
Kobe Leal, senior, Clayton : shot, discus (def champ in both)
Class 3A
Girls
Hayden Colfax, junior, Santa Fe Prep : 100m hurdles, triple jump (def champ in both), 100m
Skyler Gee, junior, Sandia Prep : 400m, 800m, 1600m
Savilla Duran, junior, Sandia Prep : 100m hurdles, 300m hurdles, 200m
Boys
Gustavo Macias, senior, Dexter : 100m, 200m, pole vault, long jump (def champ in all four), triple jump
Seth Martinez, senior, Tucumcari : 110m hurdles, 300m hurdles (def champ)
Epherem Zerai, senior, Sandia Prep : 800m, 1600m, 3200m
*record holder