LAS CRUCES IS NEW TOP DAWG IN BOYS BASKETBALL
There's a new team on top of the boys basketball rankings in the state's largest classification.  The Las Cruces Bulldawgs are #1 in the latest MaxPreps Class 5A poll in New Mexico.  Las Cruces is undefeated a couple weeks into 2019.
W         at Santa Teresa           95-37
W        at Franklin                   72-53
W        vs Coronado                61-44
W        at Sandia                     67-41
W        at Manzano                 71-50
W        vs Grants                     69-54
W        vs Atrisco Heritage     47-41
W        vs Belen                      58-44
W        at Carlsbad                  56-40
W        vs Chapin                     75-55
W        vs Centennial              62-49
W        vs Coronado                68-65
W        vs Los Lunas                52-29
W        vs Roswell                   72-55
W        at Gadsden                  56-55 (OT)
That's 15 W's and zero L's. "This is a hard-working group of kids doing a good job taking coaching," said head coach William Benjamin.
The Bulldawgs start three juniors and two seniors with a group of freshman and juniors coming off the bench.  Seniors Shae Hernandez and Marcus Scott are the captains and leaders of the team.  "We don't have the success we've had without their leadership," said Benjamin.  "Defensively they are two of the best guards in the state and Marcus Scott is one of the best point guards in New Mexico."
Junior Ray Brown is the team's leading scorer, averaging 16 points a game.  As the scores above indicate, Las Cruces can win in a variety of ways.  They have a handful of high-point blowouts along with their share of narrow victories. "We've just been winning," explained Benjamin.  "Half court games, fast break, whatever it takes."
When it comes to the top ranking, their head coach isn't shy about the honor.  "We talk about it," he said.  "I tell them they're the number one team in the state.  They probably carry themselves a little differently and get a little more attention in the hallways because they're undefeated. They should feel good about what they've done."
But Benjamin is cautious because he has seen this movie before.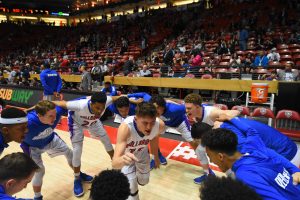 "Last year we won our first 26 games," he added.  Las Cruces entered the state tournament as a #2 seed and was eliminated in the state semifinals, falling to Atrisco Heritage 50-46 in double overtime.  "We address the history of the program.  We're not doing something that hasn't been done, so we have to stay focused.  We tell them not to listen to what everyone is saying and focus on what we do.  We have to keep our minds in the right direction.  We want to get into good habits so we are doing things that same way in March."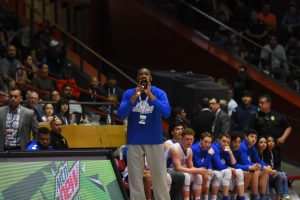 Benjamin is in his 10thyear as head coach at Las Cruces High School.  The Bulldawgs won it all in 2013 and lost in the championship of the 2017 state tournament.  Las Cruces will play at Deming on Friday.
Here's a look at the latest MaxPreps rankings.
1.Las Cruces
2.Volcano Vista
3.Cleveland
4.Santa Fe
5.Eldorado
6.Roswell
7.Atrisco Heritage
8.Rio Rancho
9.Hobbs
10.Capital