SUMMER IS READY FOR THE FALL
If there's a list of football players up for comeback player of the year, La Cueva's Dylan Summer would be included.
"I feel great, my knee feels good," said the returning quarterback.  "I've been ready for so long to be doing anything so now that we're almost ready for that I'm real excited."
"We've been testing it, we've been putting him through drills, making sure he's ok," said head coach Brandon Back.  "We've been talking to his doctors to make sure he can do the lateral stuff he needs to do.  So far, he's passed everything he needs to do to this point.  He's worked hard in the weight room to make that leg stronger again."
Summer tore his ACL in the quarterfinals of the state playoffs last year.  He still made an appearance in the 6A title game.
"That was an opportunity I wasn't going to miss," said Summer.  "It didn't go our way, but I didn't feel any pain."
The pain in his leg is gone, but the memory of losing to Manzano in the state final still sticks with Summer and the Bears.
"It hurts, it's real bad," said Summer recalling the loss.  "We're working real hard. We've done a lot this offseason to make sure we correct that mistake."
"I'd be lying if I didn't say that's part of our motivation," said Back.  "It's definitely something that we talk about.  We were right there.  I think it was a great state championship game.  Manzano ended up on the end we wanted to be in and congratulations to them for their hard effort and work, so we've used that as motivation to finish the task that we left unfinished last year."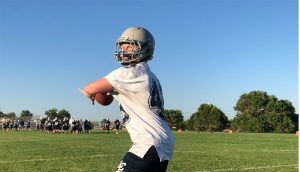 With a healthy knee, what does Back expect from his returning quarterback following last year's eye popping numbers?
"Better leadership, fewer mistakes, that's what you hope with a second-year quarterback like that," said Back.  "He's very smart and knows the offense in and out so we're expecting him to show a little more leadership.  He's now the senior and he's got to put those younger kids in the right spots."
"It would make me happy to repeat what we did last year, but it's not about me making stats," said Summer. "We just want to win as many games as we can, whatever makes that happen."
La Cueva's week one matchup is against Volcano Vista on August 24th.