MR. HOLLAND'S OPUS HAS A NEW 2A TUNE
The group from Fort Sumner and House head into the year coming off a championship campaign.
"I'm hoping it carries over," said head coach Brad Holland.  "Like I said, we lost some seniors, but I think we got a group ready to lead us and I think once we figure out how to get it done, hopefully, it will carry over and we can contend again."
"I feel like we're confident but we're also humble about it," said quarterback Jude Segura.  "We know it's another year and we have to work even harder this year."
This is the fourth year in charge for head coach Brad Holland.  He's reached the championship game each of the previous three seasons.
"We took those two losses a few years back and I think that fuels us even more than the state championship from last year," said senior lineman Alex Moyer.  "We know there's hard work to be put in for the reward that we want."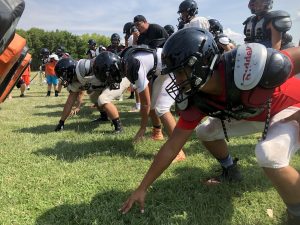 The Foxes are part of classification shuffle this year and will now be in the same class as defending 3A champ Eunice.
"There's always going to be that target," said Holland.  "We've got the same goal.  It's going to be a little bit tougher task but I think if we're healthy we'll give people problems."
"I feel like we can show our true worth because people have been doubting us," added Segura.
"I don't necessarily think it's a huge challenge," said Moyer.  "We've played some of these teams that we're going to face this year, we've played them before.  I think we're definitely up for the challenge and we're going to work hard to make sure we're prepared for it."
The Foxes only lost one offensive and defensive lineman so the they should be solid up front and with returning quarterback Jude Segura they should be ready to make another run.
Their week 1 test is against New Mexico Military Institute on August 24th.