CLEVELAND ADDS EL PASO TRANSFER AT RUNNING BACK
"I think as soon as you lay eyes on him you're going to realize what kind of player he is," said Cleveland head coach Heath Ridenour.
"He's a special talent, lots of God-given ability," he added.
"He does it all, he's really versatile.  He gets on the edge and he can outrun you to the endzone, he'll run you over, he'll spin, he'll stiff arm, he'll jump, cut.  He's got a big toolbox full of a lot of really good tools and he uses them all."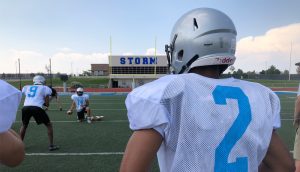 Ridenour is talking about Dorian Lewis.  He's a transfer running back from El Paso.
"It's been amazing, everybody's been so supportive," said Lewis.  "Everybody is helpful trying to get me ready to fit with the offense. It's actually nice, so nice."
Lewis rushed for almost 14 hundred yards last season as a sophomore.
"He's a good player, but first and foremost Dorian is one of the best kids I've ever been around," described Ridenour. "He's a 'Yes sir, no sir', he just wants to be part of the program.  It's not about him.  He's not a selfish kid at all.  I think that's why the kids have taken a liking to him so well."
"Just coming in, just trying to fit myself with the team as best I can," explained Lewis about the transition. "Just trying to help everybody else, trying to get to state."
How would the junior describe himself as a running back?
"Quick in the lateral move, I could explode out of the backfield and get down and dirty if I have to as we get close to the goal line.  I would lower my shoulder if I have to."
He's 5-9, 185 pounds but Dorian admits that chip on his shoulder is much heavier.
"Being that new face, everybody doesn't think that I could be able to do it, just trying to prove to everybody that I could play."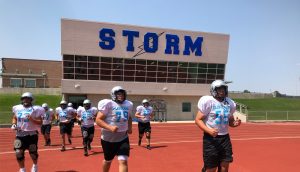 It won't just be the Dorian Lewis show at Cleveland High School.   Whether it's Tre Watson, Randy Nieto or Chris Thomas, they have a variety of players who can get their hands on the ball this year.
"We're still going to spread the field vertically and horizontally," said Ridenour.  "We're going to force teams to defend the whole field."
"Everything is bigger and better in Texas, they say, but football down here is more competitive I think," said Lewis.  "I'm just excited to see what these other teams have and compete."
He'll get his first chance August 24that Onate.
(file of Lewis in El Paso courtesy KTSM)