Albuquerque Academy Mock Trial Takes Second at Nationals
Article written by Becky Richards, Director of Communications Albuquerque Academy
May 22, 2023
For the first time since 2019, the National High School Mock Trial Championship was held in person, and Albuquerque Academy was there to represent New Mexico in top form, going all the way to the finals for the third time in 11 years and coming within one ballot of a national championship.
Team members include juniors Inaaya Hasham, Lucy Lott, Ben Raihane, Kyo Torres-Chen, Santiago Webb, and Jamal Witter and sophomore Gabriella Towsley. Inaaya was recognized as one of the tournaments 10 most outstanding attorneys, and Jamal was named a top-10 outstanding witness.
"This group went on a remarkable run in this competition," says Coach Joaquin Sanchez. They began developing a new case — a murder case in which the defendant claimed self-defense — on April 1. "They got better every week and every round."
At nationals in Little Rock, the Academy defeated defending champs Kentucky and Idaho, Illinois, and Indiana in preliminary rounds before facing Iowa in the finals. "The teams were a contrast in styles — Iowa leaned more into the thespian side of this activity, while we take a more grounded approach. As in any judged competition it comes down to the judge's preferences between styles." Iowa, which took the win with a 7-6 decision in ballots, also had the advantage of representing the defense, noted Coach Sanchez, allowing them to present their side of the case last.
"The kids did everything I asked of them and more," he says. "They were bold and brave in the courtroom and great kids outside of it — making friends with many teams along the way. So while it is bittersweet to finish second after coming so close to a championship, it is a remarkable outcome, nonetheless. Very few students get to experience the thrill of a championship round, and they excelled in their opportunity."
Albuquerque Academy is the only school in the country to participate in the championship round more than twice in the last 11 years and one of only three schools in the country that has competed in the finals three or more times since the inception of the national competition in 1984.
Coach Sanchez thanked the many other students, faculty members, mock trial alumni, former coaches, and other Academy community members who helped the team prepare for the competition and make the trip: Becca Faber '24, Evie Soule '26, Jonathan Buys, Haley Brill, Monica Dominguez '26, Diego Sanchez '27, Laura Worden '10, Maya Durvasula '14, Roushon Talcott '13, Rosa Bieber-Stanley '21, Reeya Patel '22, Stella Asmerom '19, Roman Martinez '21, Matt Scarvie, Clint Ewell '14, and Michelle Giger.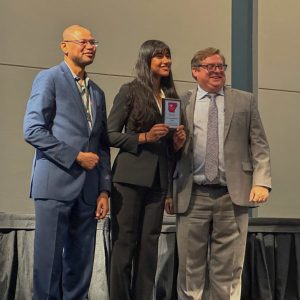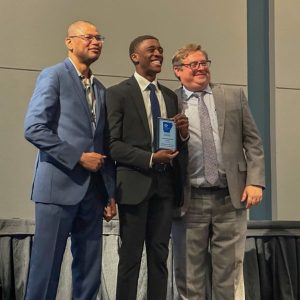 *photos courtesy Albuquerque Academy/Joaquin Sanchez