Legendary Coach Jim Hulsman Receives Standing Ovation At State Championships
Legendary Hall of Fame boys basketball coach Jim Hulsman recently received a standing ovation at halftime of the 2023 Nusenda Credit Union State Basketball Championship Boys 5A Final.  Hulsman and the 1998 State Champions from Albuquerque High were recognized for the 25th anniversary of their state championship.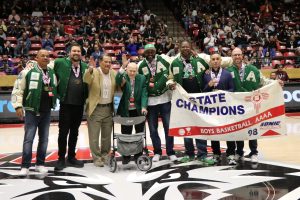 In 1998, Albuquerque High beat Alamogordo in the Large School 4A Championship by a score of 43-35.  It was Hulsman's 7th and final state title overall.  Hulsman started his head coaching career in 1969, winning his first state title in 1971.  He racked up an overall record of 660-223 in a career that spanned over three decades.  Hulsman retired in 2002.