First Girls State Basketball Champs Celebrate 50 Year Anniversary
The 2023 State Basketball Championships marked the 50th anniversary of New Mexico's first girls basketball state champion.  San Jon High School won the inaugural championship in 1973, beating Texico 37-33 in overtime.  The Coyotes were honored at halftime of one of this year's title games played on Championship Saturday at the Pit.
1973 was a milestone year for the New Mexico Activities Association and New Mexico High School Basketball, as it ushered in the first ever girls high school basketball championship. The ink on Title IX legislation was barely dry and New Mexico had its first girls state basketball championship.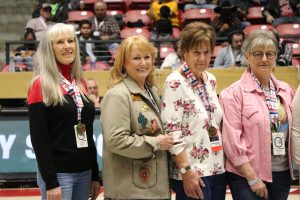 41 schools in 8 districts competed that first year, with the district champ advancing to the state tournament.  The first state tournament field included Belen, Texico, Reserve, Weed, San Jon, Dulce, Des Moines, and Wingate. The event was held at Eastern New Mexico University Arena in Portales. Girls basketball was not a new sport for many of these 41 schools. Many girls played throughout the 1940's, 50's and 60's in intraschool competition and local tournaments. But 1973 was the first sanctioned girls basketball event by the Association.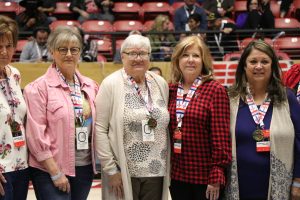 Reserve was the pre-tournament favorite, entering the event undefeated at 15-0 and claiming a 51-game win streak spanning several years. Upstart Weed got 24 points from 8th grader Robin Stone to upset Reserve in the quarterfinals, including the winning bucket with 5 seconds left in the game. Also undefeated San Jon (14-0), paced by Terry Lee's 27 points, demolished Dulce by 40 (59-19). Des Moines whipped Wingate by 30 (53-23), and Texico beat Belen 53-29. Both semifinal games were one-sided matchups, with San Jon blasting Des Moines by 18 (61-43) and Texico defeating Weed by 20 (38-18).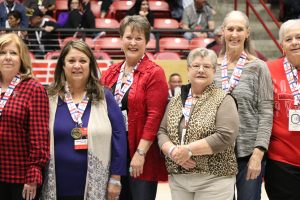 The first-ever championship game was a thriller. The San Jon Coyotes, under head coach and School Superintendent Ed Lee, outrebounded the Texico Whirlwinds 63-39. San Jon led most of the way, but Texico tied the game with 1:31 remaining. Neither team could score in the final minute of regulation, sending the first ever girls championship game to overtime. San Jon outscored Texico in OT to earn the 37-33 win. Janie Paris led all Coyote scorers with 10 points and Anita and Terry Lee each chipped in 8. Rogene Bowe, Terry Knight and Terry Lee each scored buckets in the overtime, forever stamping the Coyotes as the first ever New Mexico champions.