FARMINGTON WRESTLER HAS BEEN ON AN EMOTIONAL RIDE
Farmington High School's Ivan Smith is coming off a first-place finish at the Conflict at Cleveland, winning four of his five matches by pin. "He has incredible strength, upper body strength and speed that a lot of athletes just can't compete with," described Farmington wrestling coach John Mason.  "In the process, he's learning how to become a better technician every day."
Smith admits when he first got into wrestling ten years ago, he had a different understanding of the sport.
"At first I thought it was like WWE and I wanted to fly off the ropes," joked Smith.  "It was obviously way different.  It stuck with me once I started to get in the flow of things."
Last year at state, Smith and his sister Ebony BOTH won individual state titles. "It was something you could only ever picture," Ivan described.  "After seeing her win a state title, everybody would say, 'You're up next'.  Especially her knocking off the state champ, even though she was my little sister, I had a lot to live up to."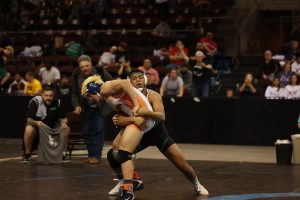 But the path to winning state was an emotional one.  Ivan and his sister lost their father who died suddenly last year. "Their father wrestled for me when I was an assistant back in the 90's," said Mason.  "It was a sudden loss and was not expected in any way.  If you look back at the state finals last year, the assistant coach was holding a t-shirt up of the dad's picture.  It's still close (to me)."
"There were two passings," Ivan explained.  "One was a fellow wrestler from my club team, he passed away a while ago.  We made a t-shirt to commemorate for him, and the other one was for my dad.  He was the biggest influence I had."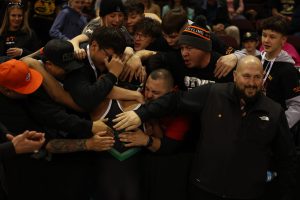 Currently with a 26-1 record, Ivan is one of the wrestlers to beat again this year. He says he embraces the challenge. "I like being a target, I like having the pressure on me," he said.
"Any time you're repeating, you feel the pressure, but you've got to embrace it," said Ivan's coach."
Heading into the state event, Smith and the Scorpions come in with the crown as others try to knock it off.  Farmington will take part in the annual Joe Vivian Tournament this week in Albuquerque.