RATON'S CAYDEN WALTON IS THE NEW STATE RECORD RUSHING LEADER
Last week, Raton running back Cayden Walton became the state's all-time rushing leader.  Walton ran for 234 yards and two touchdowns in a 28-21 loss to St. Michael's.  Walton now has 7,248 yards over his career, passing the old mark of 7,170 set by Laguna Acoma's David McGee (2010-2014).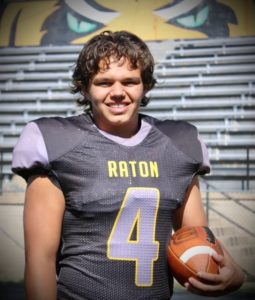 "I'm bummed we lost the game, but I'm happy I've had so many good offensive lineman and receivers from my eighth grade year until now and it feels good to achieve that goal," said the new record holder.
"I've always said from day one that he is Barry Sanders-like," said Raton head coach Tory Giacomo.  "He runs hard, has great vision, and is a hard worker."
Walton is one of only four players in New Mexico to ever reach the 7,000 yard mark in a career.  Walton is averaging over 12 yards a carry this year.  He has 2,400 rushing yards and 32 touchdowns on the ground in nine games this season.   The 5'9″, 195 pound senior tailback is 624 yards away from the single season record of 3,024 set by La Cueva's Ronnie Daniels in 2010. "It's something in the back of my mind, but right now we have one more game in the regular season and then it's playoff time and I'm really thinking about that," said Walton.
Walton will try to increase his overall total in the regular season finale this week at Robertson.