PlayVS SPOTLIGHTS NEW MEXICO STATE CHAMPS FROM RATON
The Esports gaming platform PlayVS spotlighted one of New Mexico's Esports State Champions in a national article on their website.  The article is titled "Raton High School Pulls Upset Win in New Mexico Mario Kart Finals."  The group of four Raton students took home the gold medal in Mario Kart 8 Deluxe this past April.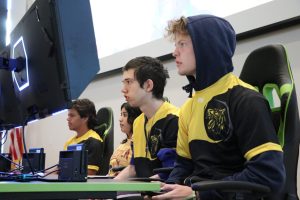 Here is the featured article (courtesy PlayVS/Ed Dutcher)
When Luisa Herrera led her team to victory in the Spring 2022 New Mexico Mario Kart™ 8 Deluxe State Finals, it was a far cry from where she saw her high school career ending. Going into her senior year at Raton High School, she had never even played the game, let alone owned a Nintendo Switch system. Only at the encouragement of Coach Billy Pier did she decide to join the school's esports program.
"Coach Pier would ask me when he saw me in the hall to join and I would just laugh and say 'Oh yeah, sign me up'," Herrera recalls. "But he kept getting more persistent, and I ended up caving and joining the Mario Kart team."
Herrera got her hands on the game during her Christmas break, and spent the holiday smoking her friends and family on the track. However, when school resumed and Herrera started playing with her new team, she was in for a rude awakening.
"When time came for our first game in the preseason, we were blown out of the water. I thought I was good because nobody at home could beat me, but playing against other people and as a team was a whole different game. After that, I spent a LOT of time playing the game and trying to memorize all 56 maps."
It didn't get any easier once the season started.
"It was our first game of the regular season, and it was against Socorro. We tied the first game, then got absolutely blown out of the water again."
After realizing their rivals meant business, Raton focused on sharpening their fundamentals and synergy.
"As a team we all spent more time playing and working together on our team chemistry. We then went on to have a 8-win streak, and in between those games we had several changes to our roster."
With a new lineup, improved strategy, and reinvigorated team spirit, Hererra and her fellow players racked up win after win, culminating in a rematch against Socorro.
"We ended up beating them in the first set, then ended up losing the other two games by only a few points, leaving us second seed in our district," Hererra explains. "We knew it was crunch time, because we had only two weeks to try and turn around and beat Socorro in the championship. We practiced every night religiously for those 2 weeks, while still having to compete in the state tournament with hopes to meet Socorro in the finals."
After nights of intense practice – and a near upset in a match with Springer High School – Raton qualified for the NMAA Spring 2022 finals. Driving overnight to Albuquerque, the team headed with no small amount of nervousness to their third and final face-off with Socorro.
"When it came time for us to play, nobody around us really thought we'd be able to pull off an upset. We were the definition of underdog," says Hererra. "We were a little late to get to the complex, so we didn't get a really good breakfast. We also ended up having a bunch of technical difficulties when we did try to start playing."
Nerves were building, but what happened when it came down to gametime?
"Despite all that, we were able to sweep Socorro two-nothing, becoming the first team in New Mexico to win a state championship in Mario Kart!"
Herrera has a lot to be proud of. As far as personal accomplishments go, her victory also makes her both the first female Mario Kart champion in New Mexico and the first female esports champion from Raton.
"I still can't believe that getting that Switch would lead to me joining the esports team and win a state championship. So you best believe I'll tell my kids and grandkids my experience and how I'm a pretty big deal in the Mario Kart circuit."
Here is a link to the PlayVS article
https://playvs.com/news/raton-high-school-mario-kart