GABE JONES IS JUST THE 3RD HEAD VOLLEYBALL COACH AT TEXICO SINCE THE 80'S
The most successful high school volleyball program in New Mexico underwent a change during the offseason.  Head coach Kristen Scanlan left Texico High School and moved to Texas.  Gabe Jones is taking over at Texico after five seasons as a Clovis assistant.
"Change is always difficult and different for kids, it's even difficult for adults" said head coach Gabe Jones.  "Coach Scanlan had them in lockstep, they knew what they were trying to do.  I'm just trying to step in and, not really change things, just get them used to hearing a different voice."
According to the first-year head coach, that voice won't get loud often.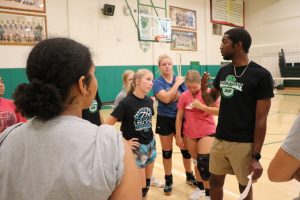 "I don't like to yell," said Jones.  "I'm high energy.  I like to be out there with the girls, encouraging them, telling them 'Let's go, let's go' and try to stay positive with them."
"I think he's pretty positive, he's very encouraging to all of us," said senior Catelyn Breshears.  "He's always trying to make us better."
"He likes to have a lot of energy and he's fun," said senior Emma Wahlen.  "He holds us accountable and pushes us to the best we can be."
Jones is just the third head volleyball coach at Texico since the early 8o's.  He takes over a program that's won 16 state championships.
"Of course, there's going to be a little bit of pressure, Coach Scanlan was really successful, but pressure is something you want," said Jones.  "It just means you're in a position to achieve something and people are looking at you to achieve that.  I feel like pressure is something I want, it's something that's going to drive me, something that's going to keep pushing me to do better."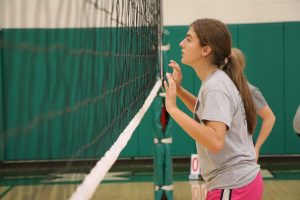 "Once you join the program, you know you need to work hard," explained Wahlen.  "There's no quitting, you need to have grit and come with a positive attitude and be the best you can be."
"I think we'll be hard working about everything we do and come into practice every day trying to get better," said Breshears.
"At the end of the day, volleyball is about executing on the floor," said Jones.  "We're trying to put them in the right position to be successful."
"We have to be as a team and work hard together and just have fun, the game of volleyball is fun," said Wahlen.
The fun starts August 25th against Fort Sumner/House.