NEW HEAD COACHES FOR BOTH 6A FOOTBALL FINALISTS
Changing head coaches is nothing new to high school football, but having a pair of powerhouse programs in the same city put new men in charge in the same season the year after their finals appearance against each other is rare.  Both Cleveland High School and Rio Rancho High School have new head coaches this season.  Robert Garza replaces Heath Ridenour who left for an assistant's job at the University of New Mexico and Nate Pino replaces Gerry Pannoni who returned to Virginia.
"I've had to come out of my shell a little bit, I'm usually more of a quiet guy," said Garza.  "I enjoy what I do, but there's more to it now. I'm starting to enjoy it."
"It's been good, it's been a transition, it all happened fast," said Pino.  "We have a process that's been tried and true and I'm just steering the ship."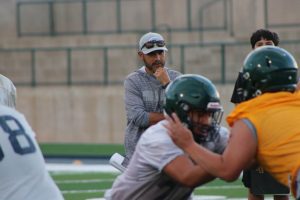 Both head coaches don't plan to make too many changes from the script that got them to the championship game last season.
"I want to continue the tradition," said Garza.  "I don't know if you're going to see a lot of different things.  Offensively, we're going to continue to try and run the ball and we're going to try and take advantage of what people give us in the passing game.  Defensively, you're not going to see any changes at all."
"We have a standard that we've kind of established and at the end of the day we have something that's proven to be successful," said Pino.  "But at the end of the day, these guys have got to live up to it.  They've got to put in the work.  They can't rely on what teams before them did."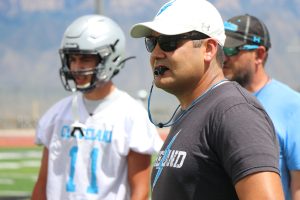 Garza has been an assistant with the Storm since the program was up and running in 2009.
"He's a great coach," said receiver Nic Trujillo.  "He's more mello and calm then Ridenour was, but nothing's changed.  Everything is the same that it's been."
"I always knew coach Garza would do a great job," said junior Evan Wysong.  "He really stepped up and brought us back together in the offseason."
Pino played for the Rams and served as an assistant with the team for several years.
"It means a lot to me," said Pino.  "I played here, I've coached here a long time.  This place is special to me.  It's a community I grew up in."
"It always sucks to see your head coach leave, but the change of power has been pretty simple," said senior cornerback Sebastian Rubio.  "Everything went a lot smoother than we expected."
"It was easy," senior linebacker Chris Montoya said of the transition.  "He's been pushing us hard all summer and he's going to push us the whole season."
"I thought it was going to be harder than it was," said senior wideout Mikey Wood.  "Pino does a lot of the same stuff Pannoni did, he's not trying to change everything up and make a whole different team."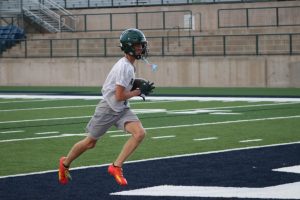 The two programs might have a new head coach on the sidelines, but the goal is the same.
"Ultimately, our goal out here is to compete for a state championship," said Garza.  "Year in and year out, we want to make sure we're in the mix."
"It's win a district championship and win a state championship, that's the goal," said Pino.  "It's going to be a long road, but if we keep plugging away and keep working, I think at the end of the day we're going to be right in that mix."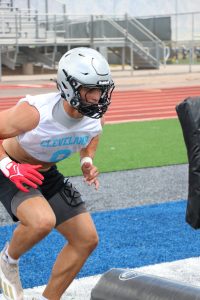 Cleveland and Rio Rancho have a combined six blue trophies since 2011.  At least one of those two programs has been in every Class 6A final but one since 2014.
"Everyone marks us on that calendar like they are going to play their best game against us," said linebacker Stratton Schufelt.  "All we can do is prepared each week for each team."
Defending state champ Cleveland opens the season August 19th against Centennial.  Rio Rancho will open that same Friday night at home against La Cueva.