ARTESIA VOLLEYBALL HOPING TO MAKE ANOTHER RUN
Sometimes numbers can be significant.  Sometimes they can be coincidental.  Eleven might be a memorable number for the Artesia High School volleyball team this season.
Last year, Artesia won their first state title since winning back-to-back championships in 2010 and 2011.  11 years later, the Bulldogs are looking for another repeat feat.  Head coach Alan Williams is in his 11th year as head coach of the program.  He says heading into the season as a defending state champ is no different than every other year.
"We went through the summer playing games like we did every year before that and nobody treated us much different (as defending state champs), so I don't think this year has been any different," said Williams.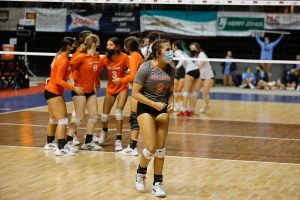 Artesia graduated three seniors from the program and return 8 players from last year, with four newcomers on the varsity squad.  Four of the five seniors on this roster team played significant roles on last year's title team, including libero Coda Beltran, setter Charity Argo, Elena Harvey and Destiny Johnson on the right side.  "They are already the leaders (on this team), they were the leaders last year, so they'll be a big part of our success this year," said Williams.
It wasn't until recently the squad even talked about last year's championship win.  "Two days ago, we were about to hand out uniforms," said Williams.  "This year's JV team will get the uniforms the varsity wore in the championship game last year and the girls aren't happy about that.  They want to buy those uniforms.  They asked, 'Coach, can we buy those uniforms?'  So, I have to figure out how that can happen.  That was the first time we talked about it."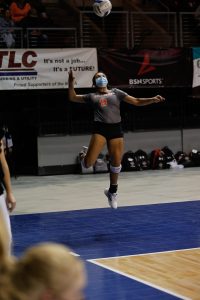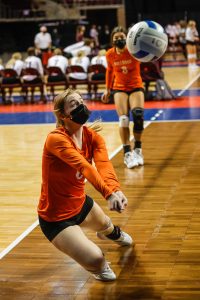 Williams had to miss all of last year's postseason run because of COVID-19.  "If I have to miss every year from here on out so that we keep winning, I'd be more than happy to do that," joked Williams.  "I certainly would have liked to have been there.  I'm fortunate that I've been the coach here for ten years and my assistant who coached them through the playoffs has been here every year with me and the JV coach has been here 9 of those ten years, so we have had a lot of consistency in the coaching staff and that has made it real easy."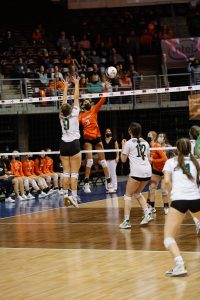 Williams has one idea of what the Bulldogs must do in order to return to the championship once again.  "Well, it would help if we could grow a lot," he joked.  "We're short, but we were short last year, so that's okay.  We're used to being short."
"If this team will play together like they did last year, and I fully expect them to because the core of that group is back, I think that is going to help us more than anything to be a team at the end and play our best."
Artesia opens up the season August 23rd at home against Carlsbad.