PIEDRA VISTA HIGH SCHOOL GOLF COACH PART OF USA GAMES
Let the games begin!
The 2022 Special Olympics USA Games are underway in Florida and one New Mexico High School coach is helping lead the way.  Piedra Vista High School golf coach Tom Yost is leading a team of New Mexico athletes who will compete in Unified golf this week in Orlando.
"It's quite an honor and it's been a really cool experience," said Yost.
The 2022 Special Olympics USA Games will unite more than 5,500 athletes and coaches from all 50 states and the Caribbean.  "It's an Olympic Games," he explained. "This is run every bit like any other Olympics. We have opening ceremonies, an Olympic village, we eat together, we have our events and closing ceremonies.  It's really cool."
There are three individuals from New Mexico competing in golf at this year's Games; Shawn Palmer (Farmington), along with Shari and Sarah Friedman (a mother-daughter team from Albuquerque).  "The kids that are here, their attitudes are not to win at all costs," said Yost.  "It's about competing and doing the best you can. It's an absolute joy to be around. You learn more from them than they learn from you."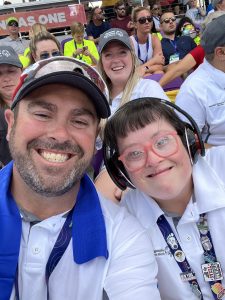 Yost is the Director of Programs with First Tee-Four Corners which helps coordinate Special Olympic programs in San Juan County.  "We've been successful over the years, and they asked me to be a part of this year's USA Games. These games happen every four years. They didn't have funding four years ago to Seattle, but fortunately we were able to get a group together this summer."
This isn't the first time Yost has been involved with helping individuals with special needs.  "When I lived in Ohio, there was a program where you could volunteer at a special needs school," said Yost.  "I did that as a sixth, seventh, and eighth grader and it had a big impression on me.  Things like that can have a big impact."
As for this year's Games in Florida, the golf competition started on Monday and continues through Thursday at the Orange County National Golf Course.  "I've truly formed a bond with this group, and we are only a couple days in," said Yost. "I would love to be invited back."