"I feel so proud to be an American" -Isabel Caleyo, Artesia High School
Artesia High School senior Isabel Caleyo is living proof that America truly is the land of opportunity.  Her path to graduating this week started in Mexico where she grew up.  As a teenager, she went from Mexico to Miami, Florida to Artesia, New Mexico where she became one of the top students in her class.
Isabel is very involved in the southern New Mexico town.  She competed in track since the 8th grade.  She is Student Council Treasurer, as well as Class Vice President for the past two years.  Isabel is also a member of National Honors Society with a 4.34 GPA and has a job as a lifeguard at a local pool, while participating in Rotary Club.  If her achievements and involvement aren't enough to impress you, listen to what she's accomplished to get to this point.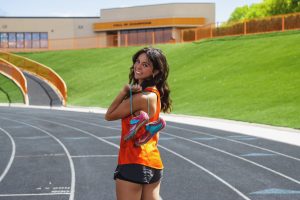 "My parents were born in Cuba," Isabel explained.  "When they were 30 years old, they left Cuba to study at one of the Universities in Mexico."  Isabel and her brother Francisco were born in Mexico City.
"The situation in Mexico was bad with violence and my parents wanted us to live in the United States for school, safety, and a better life," she said.  The Cuban Adjustment Act allows Cuban natives living in the United States to apply to become lawful permanent residents.  So, that's just what her parents decided to do.  "We came to the United States (Florida), asked for asylum at the airport, and we were granted residency."  That's when the lengthy process to become a U.S. citizen began.
"My parents had to spent 12 hours at the immigration office at the airport," Isabel recalled.  "It was almost like we had to become new people with housing and work permits.  It's a lot of money and can be very frustrating.  It's a gruesome process, to be honest."
After a year of residency in Miami, with tons of paperwork and several visits to the Department of Homeland Security, Isabel and her family left Florida.  "Both of my parents are scientists, and my dad was offered a job at one of the oil companies in Artesia," Isabel explained.  So, at the age of 14, Isabel and her family moved to Artesia, New Mexico.
After growing up in a big city and visiting the beach on a regular basis, Isabel was in for a big change. "It was an adjustment at first," Isabel admitted.  "I remember driving through the state and wondering, 'Where is everybody?'," she joked.  "I found out the mentality here is family and school oriented.  I like it here."
As part of the process to become a naturalized citizen, Isabel was required to take a 10-question civics test.  "They had questions like, 'What is Independence Day?' and 'What is a state that borders Canada?'.  You must get at least six of the 10 questions correct.  You are also required to take an English literacy test.  I was very nervous about it all, but I felt confident that I knew the content," Isabel said.
In August of 2021 it was official, Isabel became the first member of her family to become a naturalized citizen.  "Two months later, my parents followed me in the process, then my brother, and now we're all United States' citizens."
"Once you become a citizen, it's the best feeling in the world," Isabel described.  "I feel so proud to be an American.  I'm grateful.  I've seen how generous the United States can be to someone.  I'm not originally from here, but I have the same opportunities as people who were born here."
One of those opportunities is college.  Isabel's journey will take her to Georgia Tech where she will study chemical engineering.  "I like science and want to go into chemical research," Isabel said of her college plans.
It was a long process to get to the finish line, but Isabel looks back on her life in Artesia, New Mexico with appreciation and gratitude. "Every time I think about Artesia, I think about how caring everybody is here and how they value community," she said.  "I've always felt very supported by the teachers, coaches and the people in Artesia."
Isabel has some advice and words of wisdom to any incoming high school students.  "My advice would be to follow your passions but focus on your grades and focus on participating in activities that fulfill you and make you happy," she said.  "Appreciate all of the opportunities given to you."
Artesia, New Mexico
United States of America.
The Land of Opportunity.