"They make softball fun!"-Sandra Pulido, Artesia Softball Head Coach
The Artesia softball team has dominated the state's second largest classification for the last six years. The Bulldogs have played in the state title game every year since 2017. Artesia has won the last three state tournaments and one of the favorites to get there again. They returned 9 players from last year's championship squad.
"They're fun," said head coach Sandra Pulido, in her seventh year as head coach. "They are characters, and we love being around them. If you're having a bad day and you see one of them, you are going to have a laugh and change your mood. They make softball fun."
Artesia only has three seniors on this year's roster, but one of them is RyLee Crandall, the 2021 Gatorade New Mexico Softball Player of the Year who committed to pitch for Baylor in the fall. "She's pretty good," said Pulido. "She has good command of the ball. She's strong and powerful in the circle. She's a great leader for us."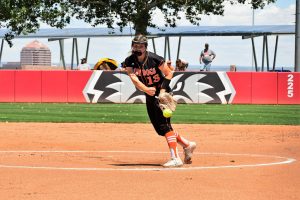 During their title run of three straight championships over four years (there was no season in 2020 because of COVID), the program racked up a record of 76-10. "Last year, one of the things we worried about was being so young," said their head coach. "We were freshman heavy and only had three seniors last year, as well. We're kind of in that same place."
Artesia has a pair of 8th graders making an impact this year, Kayden Apodaca and Jenna Whitmire. "Kayden can pitch and play in the field for us," said Pulido. "She's quiet and brings this presence. You put her in the box and she's like, 'I don't care who I'm facing. It could be RyLee, it could be Faith Aragon (from Carlsbad)' and she puts the bat on the ball and hits home runs or puts the ball in play."
"Jenna is a speedster and runs really fast and can cover a lot of ground in the outfield for us," said the head coach.
Does Pulido like being one of the teams to beat again this season? "It has its moments," she joked. "We talk about it all the time. We have a target on our back and every year it gets bigger and bigger. People are constantly talking about Artesia, and last year you have Gallup who comes out of nowhere. Who are they and where'd they come from? We're so focused on trying to keep people off our backs, that you forget who else is out there. It's fun because it puts a little more pressure on you, but at the same time it can be not so fun. Yes, we're defending state champions, but what we did last year, as great as it was, it shouldn't affect what we do now because we still have a whole season to play to get back to the state tournament."
Artesia (8-4) will travel to Hobbs on Thursday and then start district play Saturday at home with a double header against Portales.