Local Officials Receive Tips From The Tops In The Business
"Be the best and then get better." That was one of the messages received at the Behind the Flag High School Football Officials' Forum last weekend. Dozens of officials from New Mexico took part in the two-day training seminar held at the University of New Mexico.
"With support from UNM; the NMOA, NFHS, and NFL Grassroots program have partnered together to help with the shortage of high school football officials in New Mexico," said Dennis Barela of Behind the Flag organization. "The forum was intended to recruit and retain NMOA high school officials, provide classroom and on-field training, and networking opportunities for those interested in officiating at the next level."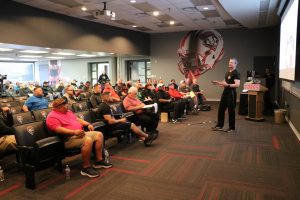 The seminar included instruction from Division One and D2 football officials, along with some of those who reached the highest level in their profession. NFL official, and Albuquerque resident, Land Clark was one of those who spoke to those in attendance. "Figure out how your style can work with other personalities," Clark said. "Coaches and players can be difficult people. You need to know how to talk them off the ledge."
Brad Rogers of the NFL also spoke to attendees about the opportunity to learn and get better. "No matter what level you officiate, there is no more important game than the one you are officiating," Rogers said. "Regardless of the level you are at, officials must be able to receive constructive criticism."
Stay in shape. Work as a team. Improve your performance and communication. All of those messages delivered by the featured speakers hope to improve local football officials at every level.