LA CUEVA'S KING IS CURRENT QUEEN OF THE TENNIS COMMUNITY
Last season, La Cueva's Cameron King won the Class 5A individual state tennis championshiP, as a freshman. "I remember I was really nervous," King recalled.  "It kind of felt unreal.  That had been my goal for a really long time and I was so happy I was able to succeed."
King won the individual state title by beating her La Cueva teammate and doubles partner, fellow freshman, Stephanie Romero. "I was really happy to get to play her because it felt really cool that we were representing La Cueva," King said.  "Two freshman, I thought that was really cool and not something that's very common that gets to happen."
This season, King picked up right where she left off, as the top seed in last week's APS Metro Championship. "Last year I was really struggling with my backhand and over the past summer, and this year, I've been working on it a lot," she said.  "I think it might be one of my stronger strokes now and that's exciting."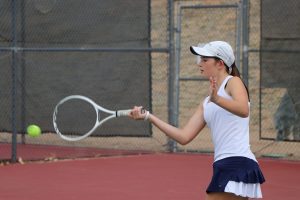 The 2022 version of Cameron King appears to be even better than last year's."She's feisty and so aggressive," described her coach Amy Heimerl.
"I like to stay back and rally it out and be really aggressive," Cameron admitted.  "I'm also really happy about my serve, that's another thing I've been working on."
Instead of an unknown freshman many people weren't familiar with, now King is the Queen of the local tennis community which adds a little pressure. "There's always some sort of pressure, but it feels like there's extra pressure that I have to forget about," she said.  "This is high school tennis and whatever happens happens, and I just have to play loose."
There have only been six girls in New Mexico won have ever won four or more individual state tennis titles.  King could be on track to add her name to that list. "I have my medal hanging up in my room and I was looking at it, hoping I could do this again this year, so I'm excited to get the chance again," King said.
King took home top honors at the APS Metro Championships last week.