DEL NORTE KNIGHTS PLAYING WITH A TARGET
Last season, the Del Norte High School boys basketball team won the state championship for the first time ever. "The kids were really set on being the first team at Del Norte to be able to win it and now we're finding out it's a lot harder to get back up there than it was the first time," explained head coach Jeron McIntosh.
"This year we're trying to build a legacy rather than create one," said junior Shane Douma-Sanchez.  "We're just trying to add on and add on so in the next 25 years you could hear our story and think that's the Del Norte team that won two in a row or back-to-back or maybe even three in a row if we win it next year."
This year's roster is small and fast with the simple goal of trying to score as many points as they can. "Last year we had some monsters down low and this year it's mostly about speed and our ability to hit shots in transition," said senior guard Joshua Tellez.
"Last year we had some seniors with a lot of size, so we were playing a different style," said McIntosh.  "This year, we have a lot of kids that were on the team last year that didn't play very much and they are stepping into new roles."
Earlier in the season, the Knights lost six straight and nine of 11 games.  But they were also without Shane Douma Sanchez, one of the top shooting guards in the state who suffered a torn ACL during the off-season. "I was sad, it was a mixture of sad and angry," said Douma-Sanchez. "I was hurt because I knew I had to wait a while before I could play again, but now that I'm back I feel happy and blessed."
Douma Sanchez is back and averaging about 20 points a game. "There was a lot of pressure on me and Judah to handle the ball, but now that Shane's back there are three ball handlers up there to be able to handle the pressure with ease and it's nice to have someone else that can hit shots, too," said Tellez.
"He's a leader, he's a baller, he just knows how to play," described McIntosh.  "The game becomes a lot easier having Shane out there. Everything's just very fluid and it comes natural to him.  He's put in a lot of work.  I compare him to Steph Curry and lot because everything he does is very natural, but it's not natural for a normal kid."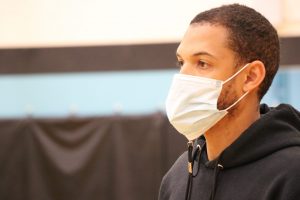 "I'll shoot from wherever, I'm confident, I practice a lot, I work out every day and I have no disbelief in my shot," said Douma-Sanchez. "I just try to be a leader right now," said Douma-Sanchez.  "I know I'm not 100% yet, but I try to be the guy that talks the most and the guy that has leadership on the court."
With the Knights at full-strength, Del Norte is back in the discussion as one of the teams to watch this postseason. "We do a lot of comparing to where we are now, compared to where we were last year," said McIntosh.  "That's been good because since we won the state championship, we know this is where we need to get to."
"Everyone knows and says it that when you come off a championship you have that target on your back," said Tellez.  "We talk about this before and after every game, it feels like we get everyone's best game and it's playing with that mentality that we have to keep to defend our state championship."
Del Norte will host Valley on Thursday.