WELLNESS WEDNESDAY: "I don't want anyone to have to receive the phone call I did"-BROOKLYN ARREOLA, LOVINGTON HIGH SCHOOL
The week of December 7th is a difficult time for Lovington High School student Brooklyn Arreola.  One year ago, her world took a turn with one phone call.
"It was 4pm, I was coaching a tumbling class and one of my friends texted me asking if I was ok," Brooklyn recalled.  "I replied yes and texted back 'Why?'"
It was at that point Brooklyn was told her friend from a neighboring town took his own life.
"I fell to the ground in total disbelief and my whole body went numb," said the Lovington High School senior.  "I had just talked to him that morning.  Even to this day, I'm still in disbelief."
Brooklyn doesn't want anyone to feel alone, unwanted, lost, or burdened.  Brooklyn's advice to her peers is to talk to people.  Get help.
"Talking to people is the best way to help deal with difficult issues," she said. "It doesn't make the problem go away, but it makes the burden of the issues less heavy to carry.  If you don't talk to someone, that burden gets heavier and heavier and eventually you weigh yourself down."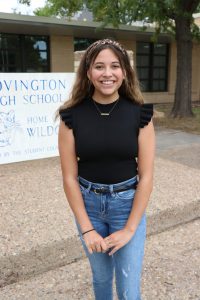 Brooklyn admits that maneuvering through a world with COVID is tough.  Like other students, she enjoyed being in-person at school and not having that opportunity left a huge void.  Losing a friend was a casualty Brooklyn wasn't expecting.  "That was the hardest thing I'd ever had to go through," she said.  "As a friend, you wish they would have said something to anybody because that's never a solution.  I don't want anyone to have to receive the phone call I did."
Brooklyn's message is one of hope.
"I would tell people 'You are important, you are loved, and there is a way out.'  I, myself, was in a dark tunnel and it's hard because you don't always see the light, but there is one.  Talk to someone.  There are so many people around that love you. Administrators, coaches, students, anyone can offer a listening ear."
1-855-662-7474
(1-855-NMCRISIS)
#YouMatter