PIEDRA VISTA'S QUINN YOST WINS NATIONAL CHAMPIONSHIP
Piedra Vista High School senior Quinn Yost beat out more than 50 of the top junior golfers in the country to win the Notah Begay III Jr Golf National Championship on Monday.  Yost shot a final round of 5-under par (67) to win the tournament by one shot over Rodrigo Barahona from Florida.
"This is the biggest win I've ever had in my life and it's not even close," said Yost following the championship victory.
The three-day, 54-hole event was held at the Koasati Pines at Coushatta Golf Course in Kinder, Louisiana.  Yost opened the tournament on Saturday with a 1-over par 73.  He then shot a second-round 64, followed by his third round 67 to finish with a three-day total of 204, 12-under par.
"I got off to a slow start today and wasn't able to make any putts early," said Yost.  "Then I birdied four in a row, starting on number nine and that got me going. Everybody was throwing darts on the back side. Everybody in our group shot 67, we were all playing really well."
Yost came through when it mattered most.  He birdied six of the final ten holes in his final round, including a birdie on the final hole of the day to win it in dramatic fashion. "18 is a good par five," Yost described.  "I had about 270 yards to the pin, over water to essentially an island green.  I hit a three-wood, landed it, and two-putt for birdie."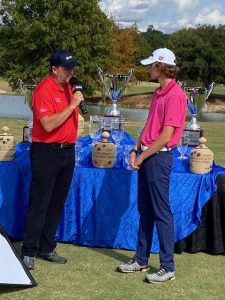 *photo courtesy Jerome Espinoza
Yost's second-round 64 on Sunday tied his best competitive round.  "I was completely in the zone, unconscious all day long, striping it and making every putt," he recalled.  "I went 32-32 to finish with a 64 and it doesn't even feel real. That's the first round I've had competitively where everything came together."
Every player in the field had to go through both local and regional qualifiers to earn a spot into the championship event.  "The competition was unbelievable," said Yost. "There are so many kids who are top 25, top 50, in the nation. All these players are unreal. All of these kids will go to a Division One school, some will make it to the PGA Tour, it's top-notch competition and I was able to hold off everyone.  You just have to believe in yourself."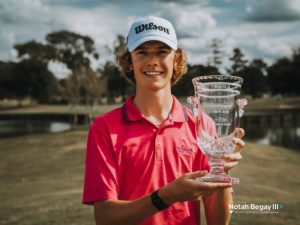 New Mexico had a pair of golfers finished in the top ten.  Cibola High School senior Aiden Krafft finished the event in 10th place.  Krafft's three-day total was 1-under par (74-71-70).  New Mexico's Adiance Cheromiah from Laguna also qualified for the championship and finished 53rd.
The event will air on The Golf Channel on December 8th at 7pm (est).